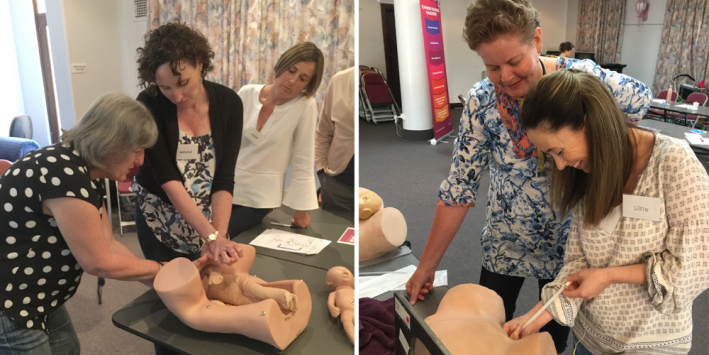 The Maternity Skills Program (MSP) is designed to facilitate the development of advanced clinical skills in the maternity setting. It is suitable for both midwifery and medical clinicians.
During this one-day workshop participants will be able to gain hands on experience using models and simulation equipment.
Under the guidance of highly skilled clinical midwifery educators, participants will gain new or refreshed knowledge in practical skills relevant to the maternity setting.
Previous attendees report increased levels of confidence in their practice and enhanced levels of efficiency and teamwork as they are able to effectively perform advanced procedures without delay.
The workshop is tailored to the individual organisation's requirements and capabilities. Hospital representatives can select from a number of elective modules based on the need of their clinicians and maternity service.
Elective Modules for this program include those shown below.
Advanced Midwifery Skills

Advanced Maternity Skills
Fetal Scalp Electrode Application
Amniotomy (ARM)
Vaginal Examination
Abdominal Palpation
Speculum
Induction of Labour methods
Pre-eclampsia drug management
Perineal trauma/repair/episiotomy
Documentation
Management of third stage

Emergency Maternity Management

Shoulder Dystocia
Breech
Cord Prolapse
Maternal and Newborn Resuscitation
PPH
If the available modules do not directly address the need expressed by your maternity service, there are opportunities to develop appropriate content.
CPD Points and Procedural Grants are available for attending this program. Download the 2018 MSP CPD Allocations document below.
Aims of the Maternity Skills Program
Provide midwives with Advanced Maternity Skills to enhance their practice.
Provide hands on experience.
Facilitate development of new skills.
Reinforce pre-existing knowledge.
Provide an update on current evidence based practice.
Encourage midwives to reflect on the current systems and processes in place within their organisation and potential opportunities for improvement.
2018 Maternity Skills Programs
There are still dates available in the 2018 calendar if you would like to schedule a MSP for your maternity service. Please contact the MSEP team for more information
---
One gift to the Women's will benefit many Make a donation today