600 women recruited for endometriosis study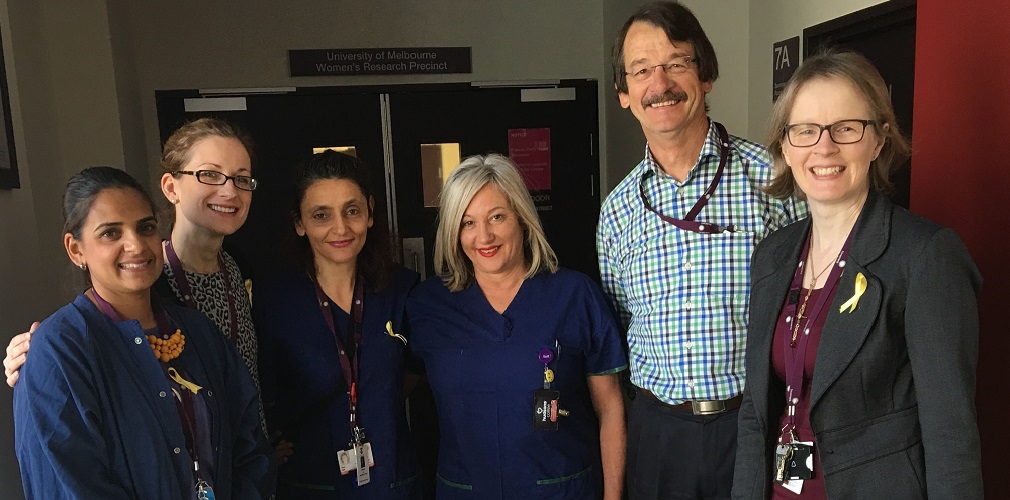 2 August 2016 | Gynaecology | Research and clinical trials
The Women's endometriosis research team including Prof Peter Rogers, Dr Jane Girling and Dr Sarah Holdsworth-Carson celebrated recruiting 600 patients to their ongoing study of genes linked to endometriosis.
Since 2012 the team that includes researchers from the Women's, the University of Melbourne and University of Queensland has been working to identify the genes responsible for endometriosis.
The team is funded by the National Health and Medical Research Council (NHMRC).
"The goal is to find the genes that increase the risk of endometriosis so that we can develop therapies to cure it," Prof Peter Rogers said.
Prof Rogers is research director at the Women's and Professor of Women's Health Research at the University of Melbourne.
The research team wanted to express a sincere thank you to all the staff in the contributing departments, including theatre, day surgery, pathology and the booking team.
They also thanked their dedicated research nurses Ranita, Tracy and Irene for their hard work. Most importantly, they thanked the many women who have volunteered for the study.
The women are helping researchers to find a cure for endometriosis, one of the most debilitating and complex disorders affecting women.
"Women want an answer for endometriosis; hopefully our team can help provide that."