Clothing donation to help women in need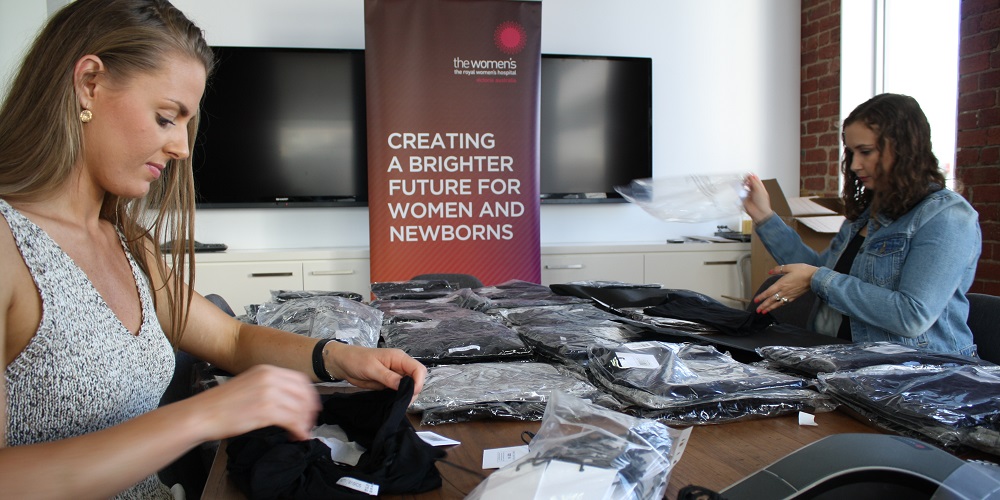 13 January 2017 | Fundraising
A very generous donation of clothing packs by the SASS Clothing Company is providing comfort and a sense of dignity to women in need.
The 70 "Betty Care Packs", containing a pair of cotton stretch pants, wrap cardigan and t-shirt, were donated to support women who present to the hospital in a state of crisis or who are experiencing financial challenges and do not have adequate maternity clothing.
The Women's Chief Social Worker, Penelope Vye said social workers across the hospital in services such as the Women's Drug and Alcohol Service, CASA House, the Women's Emergency Centre, Pregnancy Advisory Service and Social Work - would provide the packs to patients in need.
"When women present in times of emergency they often have not had time to bring appropriate clothing with them to hospital. For women with partners and families, this can easily be resolved, but not all patients at the Women's have social support networks, some are very isolated in the community," Ms Vye said.
"We also see women in violent relationships where they do not have access to any finances and cannot purchase maternity clothes. This is another scenario where we will now be able to help."
"These new clothes are just so terrific. They are very comfortable, stylish and appropriate for women's needs. It's a very generous donation and extremely welcome. Women are very pleased to receive them."
Ms Vye said patients who had benefitted from the packs already included a woman who presented to the Women's Crisis Care Unit after she was sexually assaulted and her clothes torn.
Another was a long term inpatient with pregnancy complications who had no maternity clothes and no family to bring her a change of clothing.
"It's about looking after women physiologically and psychologically. The sense of wellbeing and dignity that comfortable, well-made clothing can make for women is immeasurable," she said.
The packs of clothing range from sizes 6-16 and retail at over $100 each.
Find out more about the Women's Foundation and how your donation can make a difference.