Elimination of cervical cancer in sight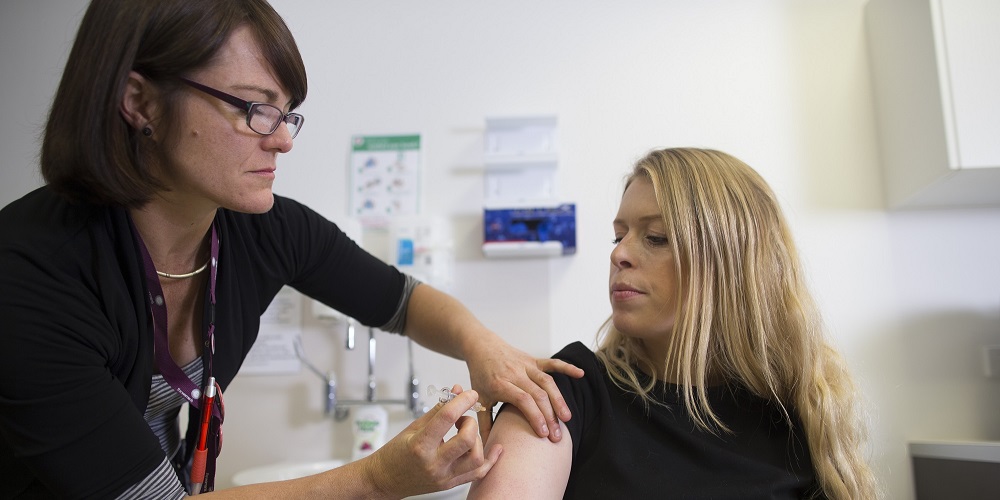 4 March 2018 | Cancer | Research and clinical trials
Cervical cancer could be effectively eliminated within the next 40 years, with Australia set to be the first country, according to the world's leading cervical cancer experts.
In a statement published in the journal Papillomavirus Research on International HPV Awareness Day, the International Papillomavirus Society (IPVS) has for the first time outlined that cervical cancer could soon be eliminated as a public health problem.
The IPVS is made up of the world's leading cervical cancer and Human Papillomavirus (HPV) researchers, including Professor Suzanne Garland from the Royal Women's Hospital and University of Melbourne, and advises the WHO and global policy makers on cervical cancer prevention and screening.
It comes as new research is published showing a dramatic decline in the rates of HPV, the infection that causes about 99.9 per cent of cervical cancer, the majority of anal cancer, and a proportion of vulvar, vaginal, penile, tonsillar and back of tongue cancers.*
Professor Garland who is the Director of the Centre for Women's Infectious Diseases at the Royal Women's Hospital said Australia's high uptake of the vaccine and high screening rates will likely result in our country being the first country to effectively eliminate the disease.
"We are forecasting that over the next 30-40 years, rates of cervical cancer will drop from around the current 930 cases a year in Australia to just a few," she said. "Our national HPV immunisation program for both boys and girls, combined with our cervical cancer population screening, means we are well positioned to be the first country to effectively end this deadly cancer."
The latest research from Professor Garland's team, published in the Journal of Infectious Diseases, is showing that rates of HPV in women has dramatically dropped due to the effectiveness of the vaccination program.
Researchers found that amongst women aged 18 to 24, the HPV rate had dropped from 22.7 per cent to just 1.1 per cent over the last 10 years. While only 53 per cent of women were vaccinated, the 'herd effect' had helped deliver a better than anticipated decline. Recent research has also shown a decline in HPV amongst males.
Prior to the vaccination program, almost all sexually active people had contracted HPV.
"If we continue with a successful vaccination program for boys and girls and our population screening for HPV, then we can effectively eradicate this cancer. The research is showing a decline in rates of the cancer causing HPV; however due to the delay between contracting HPV and cervical cancer developing, we expect it to be a few more years before we see a steep decline in rates of cervical cancer," Professor Garland said.
The majority of cervical cancers globally happen in the developing world where there are no population screening programs. Around 430,000 women each year are diagnosed with cervical cancer. The cost-effective vaccine is slowly being rolled out in many countries.
The IPVS has highlighted that eliminating the disease globally depends on high up take of the vaccine in countries across the world, developing and developed.
"The effectiveness of the vaccine and a lower cost is likely to make it possible for us to eliminate the disease in low socio economic countries too," Professor Garland said.
Professor Garland said high rates of screening was crucial to achieving elimination as between 10 and 30 per cent of HPV that causes cervical cancer is not covered by the vaccine.
Background:
Very low prevalence of vaccine human papillomavirus (HPV) types among 18 to 35 year old Australian women, nine years following implementation of vaccination, was published in the Journal of Infectious Diseases, February 2018. The study was led by the Royal Women's Hospital, University of Melbourne and the Murdoch Children's Research Institute.
*HPV is linked to 99.9 per cent of cervical cancer, 90 per cent of anal cancers, 65 per cent of vaginal cancers, 50 per cent of vulva cancers, 35 per cent of penile cancers and 60 per cent of oropharyngeal cancers (cancers of the back of the throat, including the base of the tongue and tonsils).
International Papillomavirus Society' statement: Moving towards Elimination of Cervical Cancer as a Public Health Problem
IPVS is releasing a Call to Action to health authorities to adhere to international standards developed by WHO to develop national, regional and local plans to ultimately achieve the goal of cervical cancer elimination as a public health problem. A markedly reduced incidence of cervical cancer is possible in the near term, with elimination thereafter, if high rates of HPV vaccination and cervical screening are achieved.
The facts:
Every 2 minutes a woman dies of cervical cancer
Cervical cancer is a cancer caused by human papillomavirus (HPV) infection, which can be effectively prevented as a public health problem by vaccination and screening.
Highly safe and effective vaccines that can prevent the majority of HPV infections that cause cervical and other HPV-associated cancers are available.
Tests to screen for, and methods to treat, cervical pre-cancerous lesions are available and are proven to reduce cervical cancer incidence.
Combining HPV vaccination at high coverage for adolescents and high coverage of cervical screening, with appropriate treatment of all women, can eliminate cervical cancer as a public health problem.
Recent modelling suggests that, with the tools available, elimination of cervical cancer in local populations is achievable within our lifetime. To achieve this, these effective and cost-effective prevention methods will need to be expanded, to include those not currently vaccinated or screened.
Broad dissemination of HPV vaccines has been achieved in some low and high resource countries, but needs to be scaled up globally, to reach the majority of age eligible individuals.
Today we are poised to markedly reduce the incidence of cervical cancer, with the vision of eventually eliminating it as a public health problem, using the combination of sustained high coverage HPV vaccination and sustained high coverage screening with treatment.
Please help spread the message that we can markedly reduce cervical cancer. We have the science and the tools. We now urgently need the policy, the resources, political will and the public's determination to move forward to implement these actions.