Margaret Sherburn awarded the Woodward Medal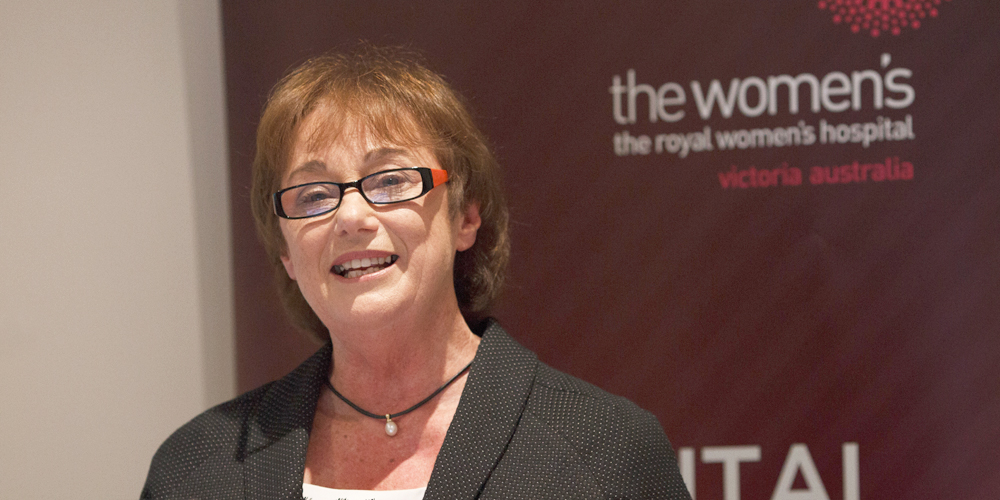 21 August 2015 | Events
Dr Margaret Sherburn has been named the 2015 recipient of the Woodward Family Medal of Excellence. This is the highest honour awarded at the Women's Staff Awards that were held at the Royal Women's Hospital on Thursday night.
The award recognises the extraordinary achievements over 10 years of an individual that have contributed significantly to improving the health of women and/or newborns.
You can view the video celebrating Dr Sherburn's achievement below.
Dr Sherburn has been manager of Physiotherapy at the Women's for almost a decade. In that time she has expanded the work of the Physiotherapy Department to cover all the key clinical areas including Maternity, Gynaecology, Oncology, NISC and satellite site - Co-Health. Dr Sherburn has also promoted Physiotherapy involvement in more specialised clinical areas.
As a manager, Dr Sherburn also works clinically, leading by example, providing exceptional clinical care in the primary contact Continence Assessment Clinic and Physiotherapy Outpatient Department.
Through her work she has developed an international reputation in this area and is a popular speaker at conferences and workshops, both locally and internationally.
Dr Sherburn also shares her passion through her involvement in teaching undergraduate, postgraduate and masters students and specialisation candidates. She has been invited to Qatar to assist in the implementation of a Women's Health Physiotherapy program in a new hospital and is still involved in research through the Women's Physiotherapy department.
Chief Executive Officer Dr Sue Matthews congratulated all the recipients of Staff Awards and said it was a privilege to lead this great organisation that was known nationally, and internationally, as one of the best women's hospitals.
"We pride ourselves on putting women, babies and their families first," Dr Matthews said.
"We are indebted to our tremendously talented and engaged staff who help make this hospital so wonderful.
"But, we are equally grateful for how each individual is committed to providing care that reflects our values: In everything we do, we value courage, passion, discovery and respect."
Other winners at the 2015 Staff Awards were:
Betty Amsden Women's Health Leadership Scholarship
Bree Bulle, Clinical Midwife Consultant
Maternity Services Education
Alix Candy, Strategic Workforce Development Manager
Human Resources
Star Performer Award
Dr Patricia Moore, Head of Unit
Early Pregnancy Service
Monique Baldacchino, Nurse Coordinator
Breast Service
Anne-Maree Pollard, Associate Unit Manger
Women's at Sandringham
Alyssha Fooks, Aboriginal Graduate and Cadetship Programs Coordinator
Education and Research
Elisabeth Gasparini, Manager
Nutrition and Food Services
Mina Lazic and Samia Moussa
Clerical Supervisors, Outpatients
Pregnancy Advisory Service Team
Chair's Award for Innovation
Sharon Kirsopp, Reproductive Loss Coordinator
Reproductive Loss
Chief Executive Award for Exceptional Leadership
Theresa Lynch, Manager
WADS
Liliana Ferrara Award for Diversity
Dr Fleur Llewelyn, Manager
Clinical Education Team