Neil is a treasured Guardian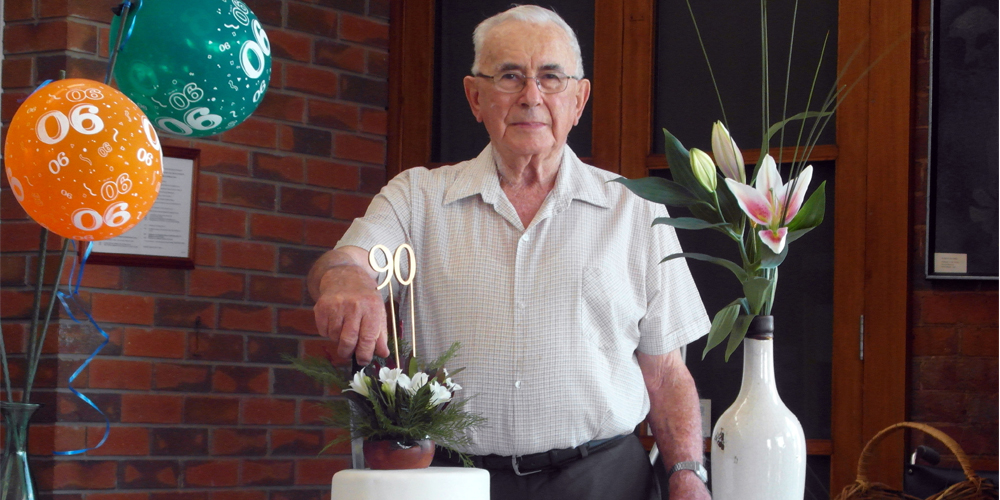 10 February 2014 | Fundraising
This is Neil Bennett, who celebrated his 90th birthday on Saturday night at the Stawell Uniting Church Hall with family and friends. Our Foundation manager, Sue Morisset, was invited to speak at Neil's birthday because of his long association with our hospital.
"Neil's family connection with the Women's dates back to 8 December 1866 with the birth of his grandmother, Mary McMahon, at what was then the "Lying In" hospital," Sue said.
"It continued when Neil and his wife Joan celebrated the birth of their first child, Phillip, at the old Royal Women's Hospital in Carlton in 1950. Then, very sadly, in March 1990 Neil and the family saw Joan, their much-loved wife and mother, pass away from cancer, having been treated at that very same hospital."
Sue said because of the care and attention Joan was provided by the hospital when she needed it most, Neil wanted to continue his connection with the Women's by becoming a donor and supporter.
"We are very lucky to have Neil visit us about twice a year when he delivers a bag full of home-turned wooden bowls and potato-mashers for us to sell to help raise funds. And let me tell you, no home should be without one – they do a brilliant job on the potatoes."
Neil, with the agreement of his family, has chosen to make a bequest to the Women's in his Will and kindly allowed the Women's to share his story to encourage others to support the hospital in the same way.
---