Nurse-led clinic for nipple construction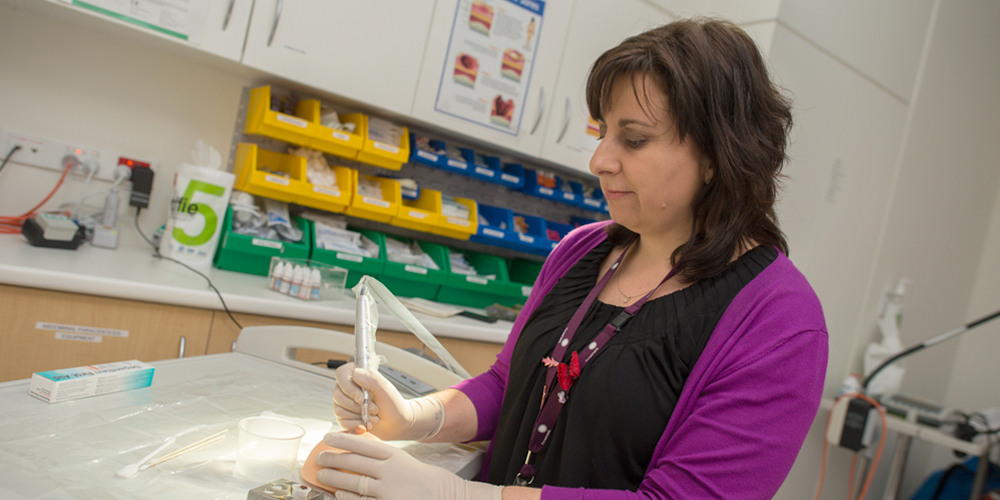 18 November 2013 | Cancer
When a woman has a breast reconstruction after cancer or trauma, the finishing touch is to have a coloured nipple/areola created on the new breast mound.
The psychological effects of a mastectomy (the removal of a breast) and breast reconstruction after a cancer diagnosis and treatment are often overlooked. Women who have had a mastectomy have higher rates of depression and thoughts of suicide compared to women who have had a breast reconstruction.
Since 2010, the Combined Breast Service of the Women's and Royal Melbourne Hospital has offered women the opportunity to have a breast reconstruction. The team can reconstruct the breast mound and the physical nipple, but they had not been able to re-create a coloured nipple and areola (the coloured area around the nipple), and this can cause psychological distress.
Nipple tattooing is a process in which the nipple and areola complex is recreated, using tattoo pigments to colour the area so that it looks as natural as possible.
Our Combined Breast Service realised the importance of being able to provide nipple tattooing in a safe, secure and familiar environment for our patients. This led to Breast Care Nurse, Monique Baldacchino, being trained in the art of nipple tattooing.
Monique attended a course in London, where she learned the theory and skills required to perform nipple tattooing. Funding for her study tour was provided by the Treasure Chest Charity, a Victorian not-for-profit organisation that raises funds to assist hospitals to increase their capacity to perform breast reconstructions.
It is believed the Women's is the only public hospital in Australia that offers a nurse-led nipple tattooing service.
"When the women see the results," says Monique, "they often cry tears of joy that their breast looks like it used to. For me and the women I see, it is a lovely way to spend a Friday afternoon."
When she was 57, Maree Plumstead received the devastating news that not only did she have breast cancer, but the type of cancer meant an excision would not be effective. She needed a mastectomy. In one operation, her nipple and breast were removed, and skin from her stomach was used to reconstruct her breast. A flap of skin was used to make a new nipple.
Some months later, the final step was to tattoo the new nipple so that it looked as much like the remaining one as possible. Maree had two sessions with Monique and said she was 'delighted' with the results. "Monique spends a lot of time to get things just right – I'd thoroughly recommend the service to any woman who has a breast reconstruction."