Nursing and Midwifery Awards 2017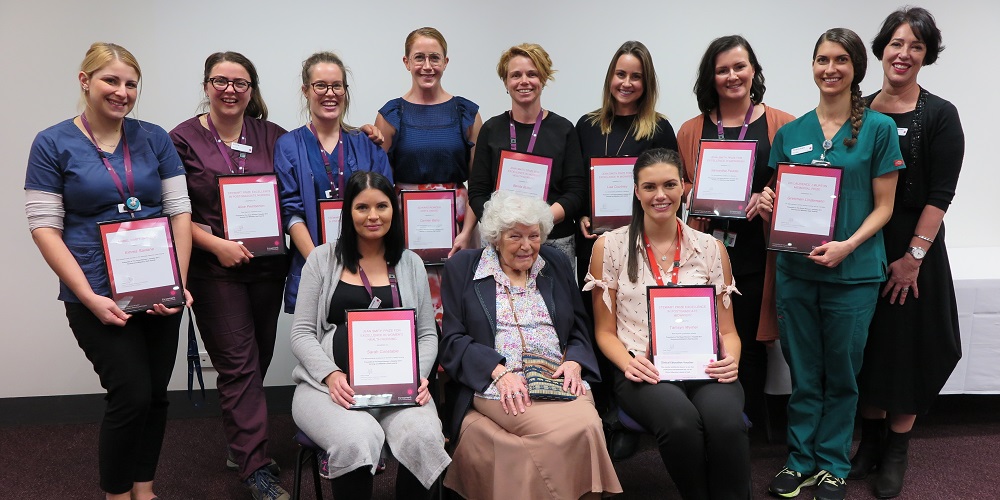 13 May 2017 | Events
This week the Women's celebrated the great contribution of its nursing and midwifery staff, for the annual Nursing and Midwifery Awards.
Held in the week between the International Day of the Midwife and International Nurses Day, the awards highlight nurses and midwives who go above and beyond the day-to-day activities of their role to provide exceptional care and leadership.
Tanya Farrell, the Women's Executive Director of Nursing and Midwifery, presented the awards, saying the work of nurses and midwives went well beyond acute care.
"We have a unique role in the health system – advancing research and practice, providing leadership and advocacy for women's health and pursuing the goal of equity in all its forms, wherever it exists," she said.
Tanya said every day and every hour nurses and midwives at the Women's lived our core values - courage, passion, discovery and respect.
"I am a proud nurse and midwife and value the opportunity to reward nurses and midwives for the difference they make every day at the Women's."
The recipients were recognised by their peers for their work with the Women's community, their exceptional clinical skills, their ongoing passion for the profession, their outstanding communication skills and their flair for innovation and their ability to create exceptional experiences even when the 'going gets tough'.
Congratulations to the following award recipients:
Jean Smith Prize for Excellence in Women's Health Nursing - Awarded to a nurse from the Women's who demonstrates excellence in women's health nursing. Awarded to Benita Butler and Sarah Constable
Jean Smith Prize for Excellence in Midwifery - Awarded to a midwife from the Women's who demonstrates excellence in midwifery. Awarded to Lisa Courtney and Samantha Peddle
Dr Laurence J Murton Memorial Prize - Awarded for skills gained in family centred nursing care to neonates. Awarded to Gretchen Lindemann
Edward Rowden White Award - Awarded to an operating suite nurse who demonstrates excellence and outstanding commitment to perioperative services. Awarded to Carmen Barry
Stewart Prize – Excellence in Postgraduate Nursing Awarded to the best beginner practitioner nurse. Awarded to Clare Shone and Alice Pemberton
Stewart Prize – Excellence in Postgraduate Midwifery. Awarded to the best beginner practitioner midwife. Awarded to Tamsyn Wymer
Mabel Kimpton Prize - Awarded to the staff member deemed to be the best student in the neonatal intensive care course. Awarded to Emma Saviane
Media contact
For more information contact the Women's Media Team on (03) 8345 2028 or (03) 8345 2921.
---
One gift to the Women's will benefit many Make a donation today