Nursing and Midwifery Awards 2019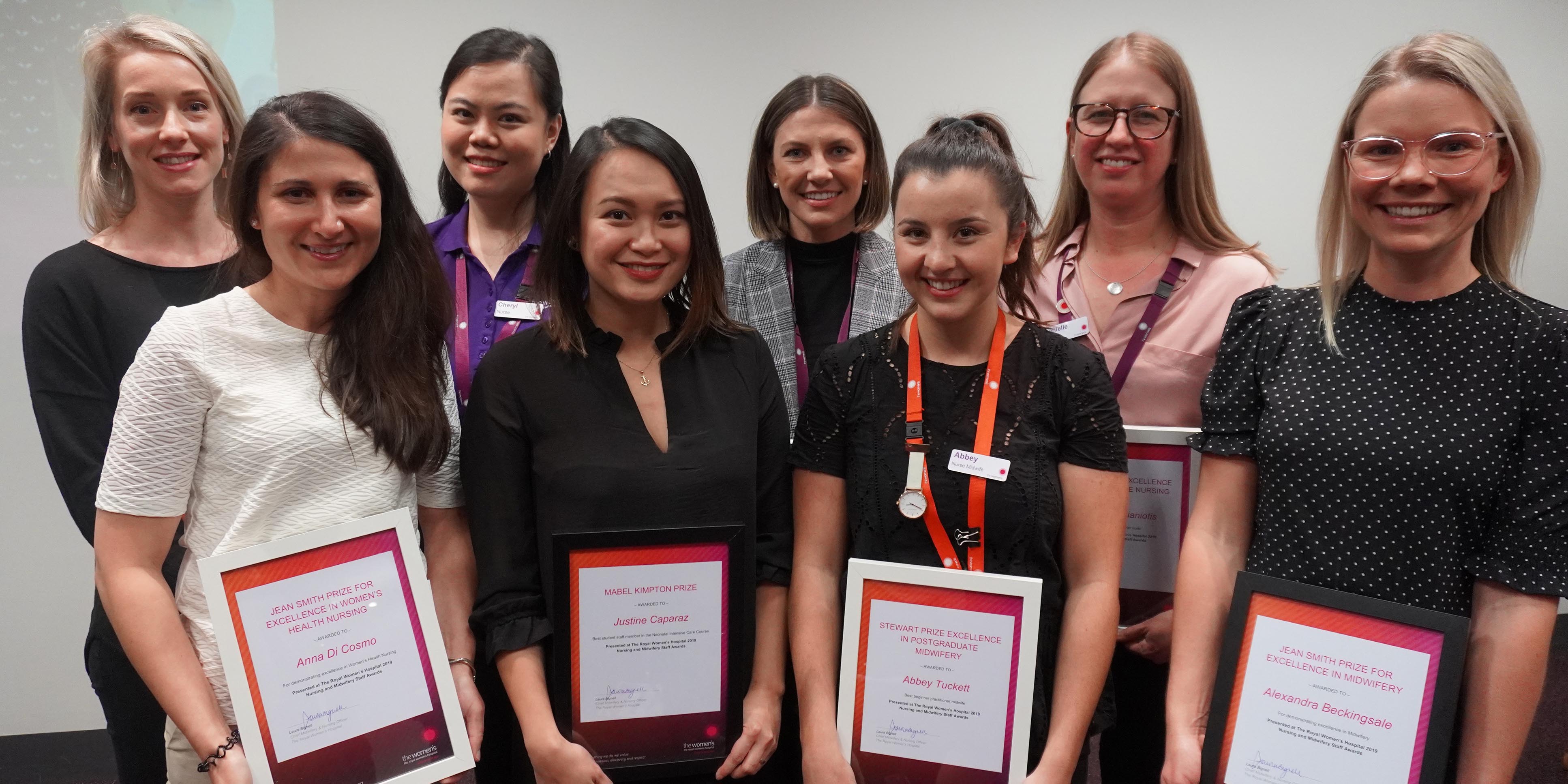 8 May 2019 | Events
This week the Women's held its annual Nursing and Midwifery Awards to honour the contribution of its nursing and midwifery staff.
Held in the week between International Day of the Midwife (Sunday 5 May) and International Nurses Day (Sunday 12 May), the awards highlight nurses and midwives who go above and beyond the day-to-day activities of their role to provide exceptional care and leadership.
Laura Bignell, Chief Midwifery and Nursing Officer, and Director of Nursing for Neonatal Services at the Women's, presented the awards, saying that nurses and midwives were the heart and soul of the hospital.
"Our nurses and midwives are some of the most dedicated professionals in healthcare, providing comfort, care and compassion to women and newborns at their most vulnerable," she said.
Laura said the Awards were a way of acknowledging the fantastic contribution made by each and every nurse and midwife at the hospital.
"Our nurses and midwives come from diverse backgrounds, with different experiences and expertise but they all strive to provide exceptional care that supports women physically, emotionally and psychologically."
Joined by family and colleagues, award recipients were recognised for their work with the Women's community, their exceptional clinical skills, their ongoing passion for the profession, their outstanding communication skills and their flair for innovation and their ability to create exceptional experiences even when the 'going gets tough'.
Congratulations to the following award recipients:
Dr Laurence J Murton Memorial – Awarded for skills gained in family centred nursing care to neonates. Awarded to Cheryl De Vera
Edward Rowden White Award – awarded to an operating suite nurse who demonstrates excellence and outstanding commitment to perioperative services. Awarded to Tamara Heckle
Jean Smith Prize for Excellence in Women's Health - Awarded to a nurse from the Women's who demonstrates excellence in women's health nursing. Awarded to Anna Di Cosmo
Jean Smith Prize for Excellence in Midwifery - awarded to a midwife from the Women's who demonstrates excellence in midwifery. Awarded to Alexandra Beckingsale
Mabel Kimpton Prize – awarded to the staff member deemed to be the best student in the neonatal intensive care course. Awarded to Justine Caparaz
Stewart Prize – excellence in Postgraduate Nursing Awarded to the best beginner practitioner nurse. Awarded to Misty Charles and Danielle Kallianiotis
Stewart Prize – excellence in Postgraduate Midwifery. Awarded to the best beginner practitioner midwife. Awarded to Abbey Tuckett