Study finds doctors can add smartphone to diagnostic tool kit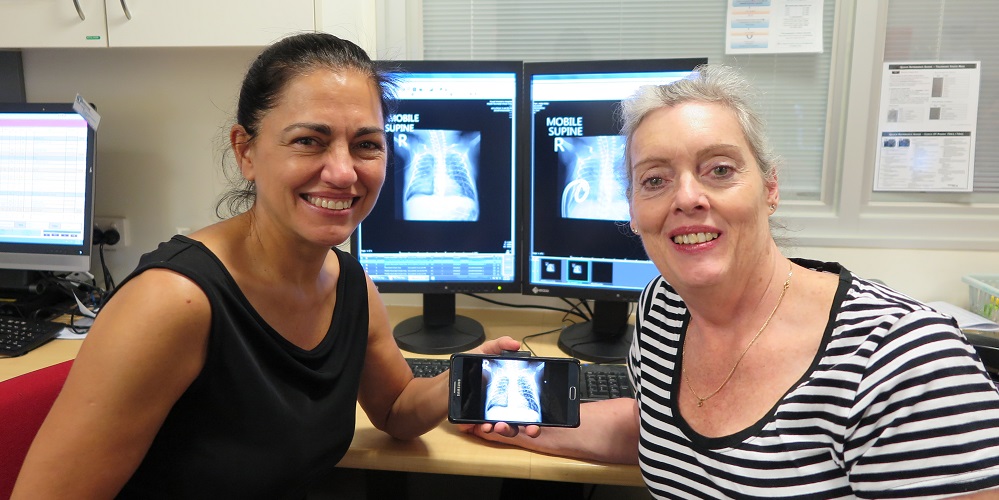 17 February 2017 | Pregnancy | Research and clinical trials
In a world first, new research from the Royal Women's Hospital has established that clinicians can, with reasonable accuracy, diagnose a common respiratory condition in babies by viewing x-rays on their smartphones.
Researchers for the first time tested the accuracy of sending photos of x-rays of baby lungs via smartphone MMS to specialist clinicians who then provide advice on diagnosis and treatment.
The finding, published in the Journal of Paediatrics and Child Health, has significant implications for helping babies with respiratory problems in regional and remote Australia receive a quick diagnosis and treatment.
"This research can give doctors confidence to quickly send x-rays images to specialists based in another location, and receive a quick diagnosis, advice on treatment and recommendations to transfer babies to specialist care if need be," lead researcher Dr Jennifer Dawson said.
"With the improvement in the number of megapixels of smartphone cameras, it means we can now add the phone to our diagnostic tool kit."
Researchers looked at the condition pneumothorax, a respiratory problem that can be mistaken for other conditions in babies. Clinicians made a diagnosis by looking at images of x-rays received via MMS to their third generation (3G) smartphones, and compared their diagnosis with one made by viewing the same x-rays on a computer. The diagnostic accuracy rate was almost identical.
Consultant Neonatologist and newborn researcher Dr Marta Thio works with doctors across Victoria providing clinical advice in relation to newborn baby health and travels to regional hospitals to provide care in emergency cases.
"Pneumothorax occurs when a baby's lung collapses as air goes into the space around the lung," Dr Thio said. "Without an X-ray, it can be mistaken for other respiratory diseases, leading to incorrect treatment which could make the condition worse."
"This research shows we can make a diagnosis far more quickly while maintaining accuracy, simply by using smartphone images in conjunction with speaking to the doctor. We do not have to wait for both clinicians to be in front of a computer to view images sent by email, which could potentially delay diagnosis."
In light of this new research guidelines on viewing images on a smartphone could be reviewed for this particular condition.
Early studies of sending x-ray images on smartphones via MMS found the quality of the images was too poor for accurate diagnosis. This study looked at third generation smartphones with a resolution of eight megapixels. It is likely the next generation of smartphones will further improve the quality of the images.