Allied health research - 2018 highlights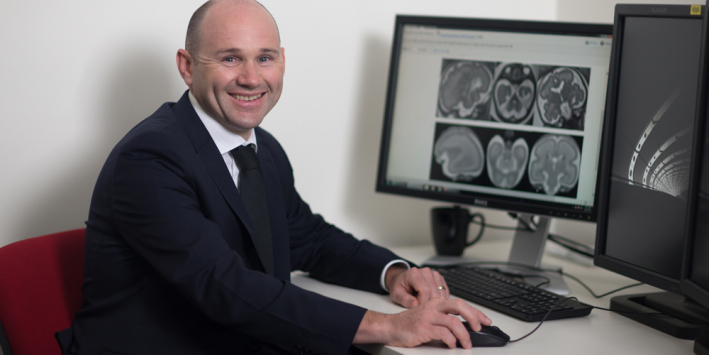 Improving diagnosis of craniosynostosis prior to birth
Lead researcher: Dr Edward O'Mahony
A study into craniosynostosis – where babies are born with a fused skull – is aiming to improve the accuracy of early detection to facilitate consultation and counselling for impacted parents.
Craniosynostosis is a rare condition caused by genetic disorders which impairs brain, skull and face development and results in a range of syndromes.
The outcomes for babies with this condition depends on the type and severity of the syndrome and in some cases it can lead to death. Accurate diagnosis prior to birth is important for counselling parents on what to expect.
The study involved reviewing thirteen cases of craniosynostosis of babies born at the Women's between 2009 and 2018. Their fetal and postnatal MRI and postmortem data was reviewed, with Apert syndrome being the most common of the craniosynostosis syndromes identified.
Cross referencing ultrasound and MRI imaging showed that ultrasound facilitated initial diagnosis and assessment of health conditions associated with the syndrome, while MRI allowed for assessment of the midline brain structures.
"The current approach to antenatal diagnosis by a single type of imaging is challenging but our study has demonstrated that ultrasound and MRI imaging complement each other in the characterisation and diagnosis of craniosynostosis syndromes," said Consultant Ultrasonologist at the Women's, Dr Edward O'Mahony.
"An unexpected discovery was the association of Apert syndrome and polyhydramnios potentially representing a tracheo-oesophageal abnormality. We believe this new insight will better equip clinicians who encounter this rare and challenging condition," Dr O'Mahony said.
Vicarious trauma and the health professional
Lead researcher: Christina Coldebella
A study into the experience of vicarious trauma by social workers has revealed that more than half are personally impacted by distressing situations encountered at work.
Vicarious trauma, where people absorb a portion of trauma to which they are exposed, is a normal response, typically experienced by healthcare workers who have an empathetic orientation and deal with high numbers of people in distress.
In addition to situations like bereavement, there has been an increase in health professionals recognising and responding to family violence which is thought to be a contributing factor to vicarious trauma.
Social workers are particularly affected and 40 people from this group at the Women's responded to a survey to help understand and alleviate the impact of vicarious trauma on healthcare professionals.
One-third (33 per cent) of those surveyed said they are mildly to moderately affected by vicarious trauma, while 53 per cent said they were exposed to a large or overwhelming amount of trauma.
Encouragingly, two in three staff (68 per cent) said they feel supported at work, however, they would welcome additional coping mechanisms.
Social worker Christina Coldebella said, "We have gained important baseline knowledge about the incidence and impact of vicarious trauma among the social worker population and these are learnings which can be applied to the wider healthcare workforce."
"Our focus now is on designing appropriate models of support spanning self-care, information sessions and support groups for wider hospital staff," she added.