Anaesthetics research - 2018 highlights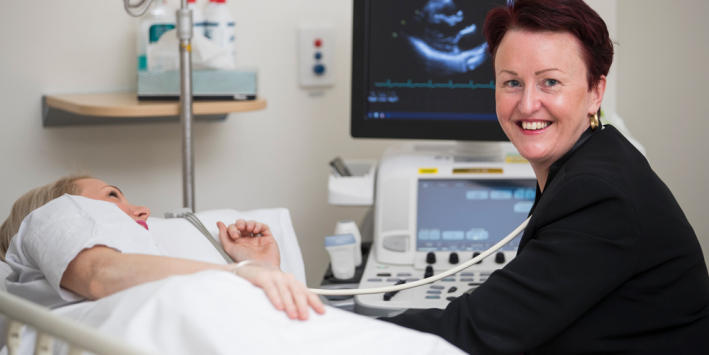 Understanding preeclampsia through cardiac magnetic resonance, positioning studies and exercise testing
Lead researcher: Associate Professor Alicia Dennis
Preeclampsia is the most common serious condition of pregnancy, affecting one in 20 women in Australia. It is a leading cause of maternal morbidity and mortality worldwide and the main reason pregnant women are admitted to intensive care during pregnancy.
The cardiovascular system, through the development of high blood pressure, plays a central role in the pathophysiology and clinical indicators of preeclampsia.
This condition can lead to a range of complications, including high blood pressure, fluid retention and protein in the urine, and can cause maternal circulation problems, which can affect the blood supply to the fetus.
Associate Professor Alicia Dennis has been leading research at the Women's to better understand the changes in the heart of women with preeclampsia, as well as how to potentially manage this condition.
Cardiac magnetic resonance and transthoracic echocardiography
In a world first, researchers at the Women's have undertaken clinical studies using cardiac magnetic resonance to examine the effect of high blood pressure on the hearts of women with preeclampsia.
The research found that preeclampsia patients' hearts pumped more forcefully and were stiffer than healthy pregnant women. Significantly, it was discovered that the walls of their hearts were larger and that this swelling is due to fluid and not muscle, as was previously thought.
"This is a new discovery; the women's hearts with preeclampsia look and function differently to healthy pregnant women, and our next focus will be trying to understand more about why this is the case," said A/Professor Dennis.
Prone position
The prone position is where a person lies horizontally with chest down and back up.
Blood pressure was measured in pregnant women with preeclampsia after lying on their back and after lying prone, with appropriate pillows. All the women found the prone position acceptable and it reduced blood pressure in some women with preeclampsia, without causing any problems.
"With appropriate pillows, the prone position is safe for pregnant women; there is almost no pressure on the blood vessels in the abdomen and we think that blood flow to the baby will be better in women with preeclampsia," said A/Professor Dennis.
Cardiovascular fitness
The Six Minute Walk test was used to measure distances walked, heart rate recovery after exercise in pregnant women and to determine the average healthy walking speed in late pregnancy.
Our multicentre exercise testing study determined the speed and distance healthy pregnant women can walk at term and has created, for the first time, the reference ranges for exercise using the Six Minute Walk test.
"Not only did these studies focus on gaining a deeper understanding of the physiological reactions to exercise but, consistent with our patient-focussed approach to research, we developed reference ranges that can be used to assess fitness levels in pregnant women," A/Professor Dennis said.
This research was published in the International Journal of Obstetric Anesthesia, BMC Pregnancy and Childbirth and Anesthesia Analgesia.