Family violence prevention research - 2018 highlights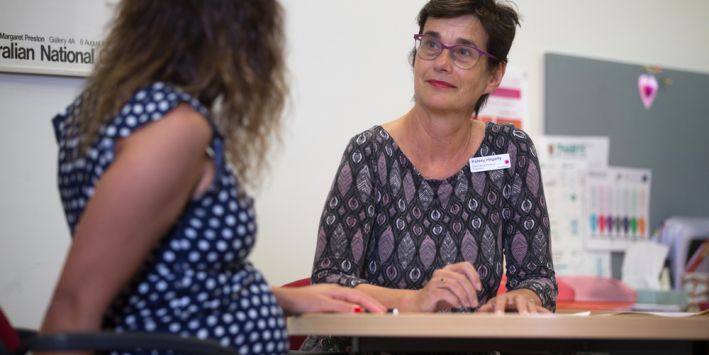 Improving detection of family violence in antenatal care
Lead researcher: Professor Kelsey Hegarty
A multi-site study led by the Women's is developing sustainable ways for screening antenatal patients experiencing family violence and providing staff with the skills and tools to address this issue. Results of this study are informing hospital antenatal care across Victoria and NSW.
Based on a large survey of patients, it was found that one in ten women attending the Women's antenatal clinics has experienced family violence in the last twelve months.
Staff perspectives were also explored and many said they feel they are ideally placed to deal with this sensitive issue as the hospital is a trusted institution. However, as one practitioner highlighted, the need for training was evident, "We are taught not to ask something we can't manage".
Lead researcher Professor Kelsey Hegarty said antenatal care provides an important opportunity to identify and respond to the issue of family violence because staff work with women over time, creating an environment where women feel safe to disclose.
"We are addressing barriers to screening and providing practical recommendations for transforming the system to enable safe, effective, evidence-based screening for family violence in pregnancy care," said Professor Hegarty.
"We know that women experiencing abuse are more likely to disclose if they are approached in a non-judgemental and empathetic manner, while staff are more likely to engage in addressing the issue if we set up organisational and staff supports such as ongoing training, scripts, protocols, clinical champion support, and referral pathways," she said.
Family violence common amongst health workers
Lead researcher: Elizabeth McLindon
A study by researchers from the Women's and the University of Melbourne revealed that family violence is prevalent among female healthcare workers, with almost half (45 percent) of women surveyed declaring they had experienced some form of abuse.
The Victorian-based study involving 471 female healthcare workers uncovered that one in nine had themselves experienced abuse by a partner during the previous 12 months; and one in eight had been sexually assaulted by a partner since the age of 16.
Lead researcher Elizabeth McLindon said it was significant that many female healthcare workers had themselves experienced domestic and family violence when they were the ones likely to be identifying and helping other women and children in abusive situations.
"Healthcare workers who have experienced violence and abuse may go the extra mile in supporting survivor patients, but for other women, discovering and hearing stories of people's experiences of violence could actually trigger their own personal trauma," Ms McLindon said.
"Hospitals have an important role to play in supporting healthcare workers to ensure their wellbeing is not negatively impacted by their day-to-day work. This may also improve the support provided to survivor patients," she added.
Study co-author Professor Kelsey Hegarty, said the study reinforced the reality that family violence affects all women in the community and there is a real need to implement the necessary workplace supports for the benefit of both employees, and patients.
This research was published in BMC Women's Health.