Family violence prevention research - highlights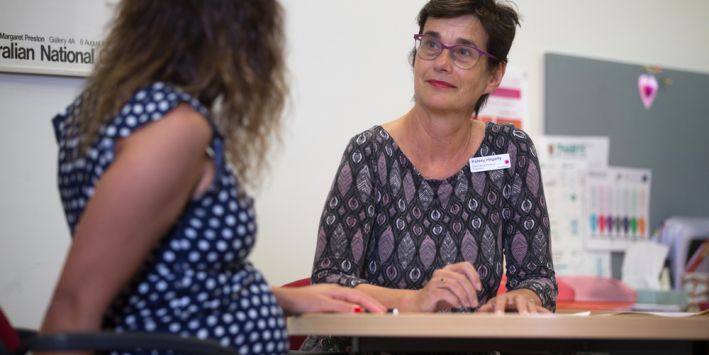 2019 highlights
Evaluation of Strengthening Hospital Response to Family Violence
Project Manager: Elly Taylor
Lead researcher: Kelsey Hegarty
This project began in July 2019 and will look at how hospitals support and respond when a patient or staff member discloses an experience of family violence.
The two-year project aims to find out what responses and supports work, in what contexts and when, to improve the hospital system pathways to safety and wellbeing for patients and staff who disclose.
The health services participating in the project in 2019 are The Women's, The Peter MacCallum Cancer Centre, and seven health services that form the Ballarat Health Cluster.
These are among 88 hospitals and health services that are part of the Strengthening Hospital Responses to Family Violence (SHRFV) program. The robust evidence base that will result from this project will help expand impact and application of the SHRFV program in Victoria and potentially beyond.
"The health sector is a critical entry point for identifying and responding to people affected by family violence, providing care and offering appropriate pathways to support and assistance," Professor Hegarty said.
"This project is a great opportunity for us to look at data related to early identification, response, and referral of patients who experience family violence. It will also allow us to investigate hospital systems and support structures for staff to carry out this sensitive work and for those who are also victim/survivors."
This special grant made by Collier to honour the significant contribution of the three Collier sisters, Edith, Alice and Annette, who established the Collier Charitable Fund upon their deaths in the 1950s.
Evaluation of the introduction of screening in antenatal clinic
Lead researcher: Caroline Bert (Honours student)
A new way of identifying experiences of family violence in women during antenatal appointments has been trialled and implemented by the Royal Women's Hospital.
An evaluation by honours student Caroline Bert from the Centre shows that six per cent of women disclosed family violence in this initial trial.
During the eight-week trial, more than 200 women filled out a questionnaire asking if they felt afraid, controlled, threatened or physically hurt and whether they would like support and assistance. Screening for family violence within our antenatal clinics is now part of normal hospital practice.
The research centre director, Professor Kelsey Hegarty, said, for such a major change, this new screening approach has been put into practice seamlessly.
"In a public hospital where we are seeing nearly 9,000 pregnant women every year, the Women's has an important role to play in identifying and responding to family violence," said Professor Hegarty.
"Abuse and violence affects the health and wellbeing of all members of the family, so early engagement can play a part in preventing family violence. Women want to be asked in a non-judgemental way and will tell health professionals about their safety as they trust them.
As Caroline Bert said after interviewing staff:
"Midwives are giving us positive feedback on the new screening tool, with one saying that she's made more referrals to further support with the screening tool. And that's the point: for the six per cent that disclosed their experience, they were able to be supported by health professionals during their pregnancy and beyond."
NOTES
More information on the 16 Days campaign.
Trial results:
228 questionnaires given to women, 211 questionnaires completed (92.5 per cent completion rate –best practice is for this screening is more than 85 per cent)
4.1 per cent disclosed via the self-report screening tool

60 per cent of these women said a partner or ex-partner was the perpetrator
10 per cent of these women said it was a family member
30 per cent did not indicate

1.4 per cent disclosed later on with a social worker
2018 highlights
Improving detection of family violence in antenatal care
Lead researcher: Professor Kelsey Hegarty
A multi-site study led by the Women's is developing sustainable ways for screening antenatal patients experiencing family violence and providing staff with the skills and tools to address this issue. Results of this study are informing hospital antenatal care across Victoria and NSW.
Based on a large survey of patients, it was found that one in ten women attending the Women's antenatal clinics has experienced family violence in the last twelve months.
Staff perspectives were also explored and many said they feel they are ideally placed to deal with this sensitive issue as the hospital is a trusted institution. However, as one practitioner highlighted, the need for training was evident, "We are taught not to ask something we can't manage".
Lead researcher Professor Kelsey Hegarty said antenatal care provides an important opportunity to identify and respond to the issue of family violence because staff work with women over time, creating an environment where women feel safe to disclose.
"We are addressing barriers to screening and providing practical recommendations for transforming the system to enable safe, effective, evidence-based screening for family violence in pregnancy care," said Professor Hegarty.
"We know that women experiencing abuse are more likely to disclose if they are approached in a non-judgemental and empathetic manner, while staff are more likely to engage in addressing the issue if we set up organisational and staff supports such as ongoing training, scripts, protocols, clinical champion support, and referral pathways," she said.
Family violence common amongst health workers
Lead researcher: Elizabeth McLindon
A study by researchers from the Women's and the University of Melbourne revealed that family violence is prevalent among female healthcare workers, with almost half (45 percent) of women surveyed declaring they had experienced some form of abuse.
The Victorian-based study involving 471 female healthcare workers uncovered that one in nine had themselves experienced abuse by a partner during the previous 12 months; and one in eight had been sexually assaulted by a partner since the age of 16.
Lead researcher Elizabeth McLindon said it was significant that many female healthcare workers had themselves experienced domestic and family violence when they were the ones likely to be identifying and helping other women and children in abusive situations.
"Healthcare workers who have experienced violence and abuse may go the extra mile in supporting survivor patients, but for other women, discovering and hearing stories of people's experiences of violence could actually trigger their own personal trauma," Ms McLindon said.
"Hospitals have an important role to play in supporting healthcare workers to ensure their wellbeing is not negatively impacted by their day-to-day work. This may also improve the support provided to survivor patients," she added.
Study co-author Professor Kelsey Hegarty, said the study reinforced the reality that family violence affects all women in the community and there is a real need to implement the necessary workplace supports for the benefit of both employees, and patients.
This research was published in BMC Women's Health.