Infectious diseases research - 2018 highlights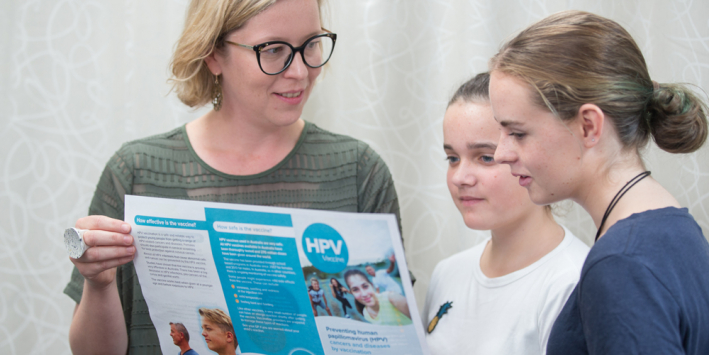 Elimination of cervical cancer in sight
Lead researchers: Dr Dorothy Machalek and Professor Suzanne Garland AO
Rates of Human Papillomavirus (HPV) in women aged 18 to 24 in Australia have dramatically dropped from 22.7 per cent to just 1.5 per cent over the last 10 years due to the effectiveness of the HPV vaccination program.
Around 530,000 women worldwide are diagnosed with cervical cancer each year, but this type of cancer could be effectively reduced to a rare cancer within the next 20 years, with Australia set to be the first country according to the International Papillomavirus Society (IPVS).
Lead researcher Dr Dorothy Machalek said, "While only 65 per cent of women in the study were fully vaccinated, the 'herd effect' has helped deliver a better than anticipated decline. Prior to the vaccination program, almost all sexually active people had contracted HPV."
The IPVS is made up of the world's leading cervical cancer and HPV researchers, including Professor Suzanne Garland AO (President Elect for IPVS), who advises the WHO and global policy makers on cervical cancer prevention and screening.
"Rates of cervical cancer will drop from around the current 930 cases a year in Australia to just a few. Our national HPV immunisation program for boys and girls, combined with our cervical cancer population screening using more sensitive screens of HPV DNA instead of the Pap test, means we are well positioned to be the first country to effectively eliminate this deadly cancer," said Professor Garland.
"Maintaining high rates of screening is crucial to achieving elimination as between 10 and 30 per cent of HPV types that cause cervical cancer are not covered by vaccination," she added.
This research was published in the Journal of Infectious Diseases.
New test developed to diagnose common STI
Lead researchers: Dr Gerald Murray and Professor Suzanne Garland AO
An Australian developed diagnostic test is being rolled out across the country for a little known sexually transmitted infection (STI) which has been linked with infertility and increases the risk of spontaneous miscarriage and premature birth for pregnant women.
About 400,000 Australians are likely to have the STI Mycoplasma genitalium, similar to chlamydia. Up until now, most GPs have not been able to diagnose this STI and have used empirical treatment, leading to Mycoplasma genitalium being resistant to most antibiotics.
The Women's has been involved in developing the test for this STI and has undertaken research to assess its effectiveness.
"Only two antibiotic classes can treat Mycoplasma genitalium and in up to 10 per cent of cases the disease is found to be resistant to front line medication. This test allows clinicians to not only receive a diagnosis, but be guided specifically to which treatment to pursue," said Professor Suzanne Garland, Centre Director.
Chris Williams from Melbourne had never heard of Mycoplasma genitalium when diagnosed at one of the few clinics piloting the test.
"It meant they could give me one antibiotic for a week to weaken it, then a stronger one," said Mr Williams.
A second test showed he was cured.
Research reveals that Mycoplasma genitalium is drug resistant in at least 50 per cent of cases.
"Mycoplasma genitalium is essentially acting like a superbug and we desperately need new antibiotics as more diseases become drug resistant," added lead researcher, Dr Gerald Murray.