Mental health research - 2018 highlights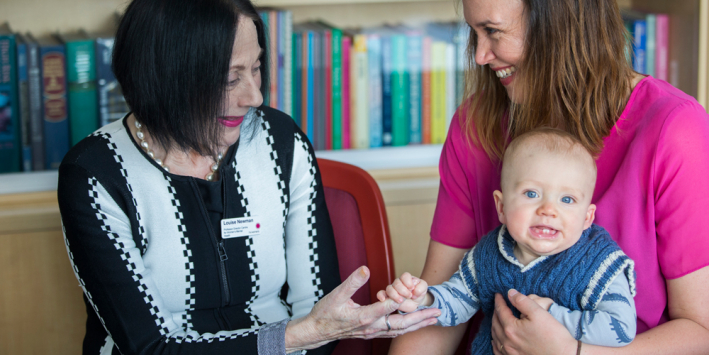 New hospital-led community service for vulnerable mums and babies
Lead researcher: Professor Louise Newman AM
Mothers and their newborns will benefit from the extension of an evidence-based support program run by the Women's aimed at bridging the gap between in-hospital and community care for women who are experiencing early parenting stress, depression and anxiety.
The Building Early Attachment and Resilience (BEAR) House pilot study will see groups of six mothers and their babies take part in the six week program and will also provide support to partners/fathers.
Building on existing BEAR programs, this pilot focuses on providing early parenting guidance and advice from specialist healthcare workers, including a maternal child health nurse, psychologists, and mental health professionals.
Lead researcher, Professor Louise Newman AM, said there was a good body of evidence to indicate that what happens in the first three years of a child's life can affect whether they will be vulnerable to mental disorders later in life.
"We know that if a child has a good experience in those very early months and years, it builds up resilience and can protect the child from future mental health risk," said Professor Newman.
"BEAR House is largely designed to support mothers who may have difficulties with early parenting and attachment with their newborn due to historical or recently diagnosed mental health challenges."
"This pilot study will allow us to assist new mothers in how to care for and form strong attachments with their newborn in a supportive setting where we can follow progress of both mother and infant and provide the tailored support they need," she said.
Anoushka Berkley was a participant in some of the Women's earlier BEAR programs: "I've been fortunate to participate in both the Mind Body Baby and Parenting with Feelings programs at the Women's and they have been so helpful both for preparing me for birth and now for understanding my baby."
Exploring mental health needs for cancer diagnosis during pregnancy
Lead researcher: Associate Professor Lesley Stafford
Cancer diagnosis during pregnancy is uncommon, affecting approximately one in 1,000-1,500 women. However, the incidence is slowly climbing, reflecting higher rates of cancer in the general population as well as the increasing average age of childbearing women.
Maternal-child bonding and attachment after birth have a profound influence on the baby's emotional, cognitive and neurological development, yet little is known about how a cancer diagnosis in pregnancy affects parenting and mother-infant attachment.
This new study led by Associate Professor Lesley Stafford seeks to investigate the healthcare experience, mental health and supportive care needs of women living in Australia diagnosed with cancer during pregnancy.
Associate Professor Stafford said a diagnosis of cancer during pregnancy can be distressing for the expectant mother and partner as well as to the treating team and there is a need for more empirical data to inform responsive care.
"While the epidemiology and medical management of pregnancy during cancer has been documented, other areas of clinical importance, including psychological health of the mother are yet to be sufficiently explored," said Associate Professor Stafford.
"This project aims to provide a rich account of the experiences of women and their partners following a diagnosis of cancer during pregnancy with a focus on mental health and supportive care needs, the impact on parenting and family, as well as clinicians' experiences of caring for these women."
"With this information, we will be able to develop a consistent, well-coordinated and evidence-based model of care that is suitable for use in our cancer services," she said.