Midwifery & maternity research - 2018 highlights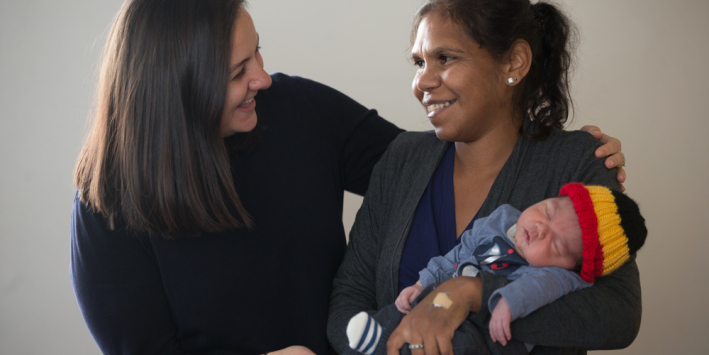 Closing the gap in midwifery care
Lead researcher: Professor Della Forster
A new program introduced at the Women's and three other Victorian hospitals in 2017 has resulted in a large increase in the number of pregnant Aboriginal and Torres Strait Islander women receiving care from a known midwife.
Known as 'Baggarrook' at the Women's, the program involves three midwives providing care to Indigenous women, with the same midwife looking after each woman during pregnancy, birth and post-birth. Since the model started in March 2017, the number of Aboriginal and Torres Strait Islander women receiving this care at the Women's increased from six to more than 130.
Lead researcher, Professor Della Forster said there are major differences in health outcomes for Aboriginal and Torres Strait Islander mothers and babies, including higher rates of preterm birth, pregnancy loss, low birthweight and neonatal or special care unit admissions.
"Previous research shows that one-on-one midwife-led care (caseload midwifery) is the gold standard in maternity care, leading to fewer childbirth complications and better health outcomes for mothers and babies," said Professor Forster.
"Unfortunately, many Aboriginal and Torres Strait Islander women have been missing out on this type of care for reasons such as the lack of available places or because of later presentation to the Women's due to being transferred from outside Melbourne."
"The Baggarrook project aims to make sure Aboriginal and Torres Strait Islander women have access to caseload midwifery care and the health benefits associated with the model. In the future, we'd love to see this model available at all maternity hospitals and to all Victorian women," she said.
Exploring midwives' professional satisfaction and experiences
Researchers: Robyn Matthews, Della Forster, Rebecca Hyde, Fleur Llewelyn
To help get a better understanding of the views and experiences of midwives at the Women's, a survey was conducted in 2017 that included questions on professional satisfaction and burnout. The aim was to quantify these issues and better understand the impacts on the midwifery workforce.
The response rate of 96 per cent of the sample (n=255) demonstrated a high level of engagement. Almost half the respondents (48 per cent) had been qualified less than five years. Compared to those who had been qualified over ten years, these midwives had lower levels of satisfaction with their professional support and their experience working with families.
Midwives were asked what would make an enjoyable shift and the overwhelming response was that they wanted to provide a high level of care and work with colleagues who had a good work ethic.
According to the analysis, which included data collected using the Copenhagen Burnout Inventory tool, two thirds of respondents were experiencing personal burnout. Almost half had work-related burnout and less than 10 percent had client-related burnout. Midwives who were less than ten years post qualification had almost twice the rates of personal and work-related burnout compared with those who were greater than ten years post qualification.
Researcher and PhD candidate Robyn Matthews said, "The low level of client related burnout indicates that midwives are not stressed by the women and families they care for, but rather the amount of work they do. Our midwives are passionate about providing high quality care and it is important that our workforce strategies support their health and wellbeing to facilitate that."