Midwifery & maternity research - 2019 highlights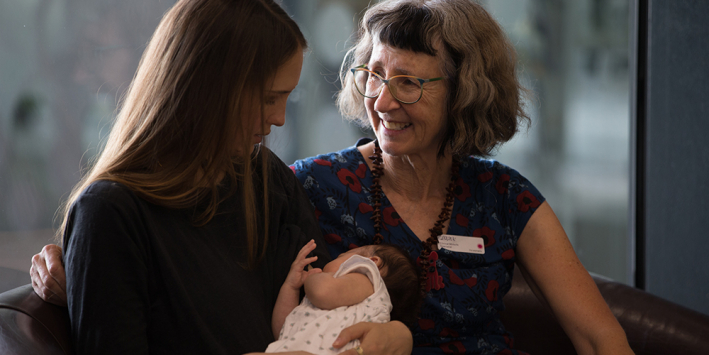 Mum-to-mum phone support boosts breastfeeding rates
Lead researchers: Professor Della Forster and Professor Lisa Amir
Regular phone calls between first-time mothers and women with previous breastfeeding experience may be the key to boosting national breastfeeding rates.
The Ringing Up about Breastfeeding Early (RUBY) trial involved more than 1000 new mothers from the Women's, Monash and Sunshine hospitals, and 230 women with personal breastfeeding experience who volunteered to become telephone support peers.
Half of the first-time mothers in the study received the usual maternal health care provided to mothers when they left hospital following birth, while the other half also received scheduled, regular phone calls from an assigned peer.
One of the Lead Researchers, Professor Della Forster said the two groups of mothers were surveyed about their feeding practices when their babies reached six months.
"At the end of the two-year trial we found mother-to-mother proactive telephone support was an effective way to increase breastfeeding among first-time mothers," Professor Forster said.
Seventy-five per cent of the mothers who received telephone support were giving their babies some breast milk at six months of age, compared with 69 per cent of those in the usual care group.
"If applied to Australia's annual birth rate, this level of increase would result in many more infants being breastfed to at least six months each year."
Lead Researcher Professor Lisa Amir said Australia had a high breastfeeding initiation rate of 96 per cent. However, only 60 per cent of babies receive any breast milk at six months, and just 15 per cent are exclusively breastfed at five months. "
This is far below the recommended guidelines, and we need to find ways to improve this," Professor Amir said.
"We believe the RUBY model has potential for widespread implementation and complements the work of health professionals in promoting and supporting breastfeeding."

Supporting mums to breastfeed in public
Researcher: Professor Lisa Amir
Breastfeeding is recognised as important for infant health yet most Australian mothers do not exclusively breastfeed their babies.
One of the challenges is breastfeeding in public, including perceptions around lack of public support for breastfeeding, and the need to find breastfeedingfriendly spaces. In order to better understand attitudes towards breastfeeding in public, including that of mothers, lifesize cut-outs of breastfeeding women were placed in public areas around the Women's.
Using Hoddinott's Seeing Breastfeeding Scale to measure attitudes, 425 people were surveyed (144 staff and 281 patients and visitors to the hospital) over a two-week period. Lead Researcher, Professor Lisa Amir said the majority of those surveyed (51 per cent) were strongly supportive of breastfeeding in public, while 38 per cent were weakly supportive or indifferent. Only 5 per cent were not supportive.
"Younger people and people born in Australia were more likely to be supportive," Professor Amir said. "Clinical staff were more likely to be supportive than non-clinical staff. Having children or seeing breastfeeding frequently were not correlated with higher support."
As part of the research, interviews and focus groups were also conducted with 28 women about their experiences of breastfeeding in public – both in the hospital and beyond.
"Some women said they would never breastfeed in public while others said they would breastfeed anywhere," Professor Amir said.
"Many women said they sought semi-private spaces where they could have some privacy without being hidden away. These included 'nooks' and 'quiet corners' behind partial barriers."
The focus groups revealed that furniture was important when looking for a place to breastfeed. Women wanted wide chairs with arm rests, a high back and cushions to make breastfeeding more comfortable. Some requested better signage to breastfeeding spaces.
"It was encouraging to see the majority of people were supportive of breastfeeding in public," Professor Amir said of the findings.
"The information from mothers can also be used to help design places that are more supportive of breastfeeding in public."