Cancer research - 2018 highlights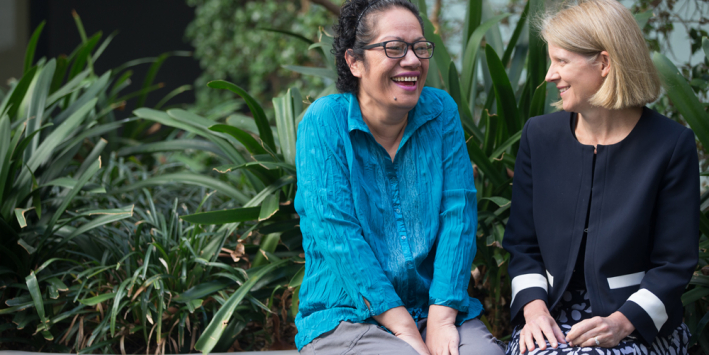 Rare gynaecological cancers program
Lead researcher: Professor Clare Scott
More people die from rare cancers in Australia than any other single cancer type. This is particularly significant in the case of gynaecological cancers, where more than half (55 per cent) are rare.
"Treatments for many rare cancers have not advanced at the same pace as treatments for more common cancers," said lead researcher, Professor Clare Scott. "However, through genomic testing we can develop new strategies and select the best treatments for patients diagnosed with rare cancers."
Professor Scott leads the Walter and Eliza Hall Institute (WEHI) Stafford Fox Rare Cancer Program at the Women's and is collaborating with Professor Sean Grimmond at the University of Melbourne to perform whole genome sequencing on select rare gynaecological cancers.
Genomic testing is essential for rare cancers as patients often lack evidence-based therapies if treated based on histology alone.
This was highlighted in the preliminary data from the NOMINATOR trial which found that one-fifth of rare cancers tested could be matched to an existing drug already proven in another cancer type. A further third had tumours that may be targetable in the future.
"In many of these cases, clues have been discovered which are now unravelling the wiring of these cancers, to help develop treatment plans," said Professor Scott.
Sutita Otuhouma was diagnosed with a rare uterine cancer and has been a participant in the NOMINATOR trial and Stafford Fox Rare Cancer Program: "I'm 100 per cent behind research because it can help me or other women in the future."
New test for endometrial cancer may improve prognosis
Lead researcher: Associate Professor Orla McNally
The use of an extra test for women with endometrial cancer may help to improve their care by identifying earlier on those women who are at higher risk of having metastases and therefore require more surgery.
A protein called Human Epididymis Protein 4 (HE4) has been shown to be elevated in patients with endometrial cancer. Increased levels of HE4 may be associated with invasion of the cancer into the myometrium (the muscle or middle layer of the uterus) and therefore a poorer prognosis.
In the management of endometrial cancer, the availability of a reliable tumour biomarker taken prior to surgery would enhance risk assessment greatly; it could predict the absence of high risk features and help guide patient management.
This study examined 100 patients with a new diagnosis of histologically confirmed endometrial cancer who were eligible for standard operative management.
It sought to assess the feasibility of using HE4 independently or alongside other modalities such as MRI and tumour marker CA125 to guide treatment options in early stage endometrial cancer. Following surgery, information was obtained about grade, tumour type, depth of invasion and spread to lymph glands to see if the HE4 level predicted these risk factors before surgery.
Lead researcher, Associate Professor Orla McNally said, "The HE4 test can help identify patients who are more likely to have low grade cancer and therefore, a lower risk of lymph node metastases, potentially avoiding lymph node surgery which is associated with significant side effects."