Newborn research - 2018 highlights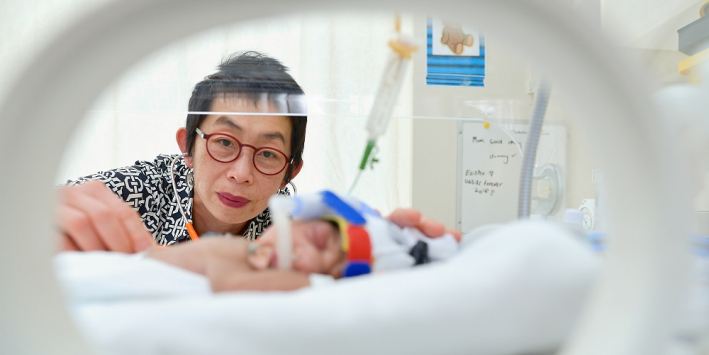 First days crucial to long-term health of preterm babies
Lead researcher: Associate Professor Jeanie Cheong
New research looking at the first days of life of very preterm babies means doctors can now more accurately inform parents about their baby's long term health risks.
The study of 751 babies found the likelihood of extremely preterm babies surviving without long-term disability dramatically improved each day post-birth, and most significantly in the first week of life.
Neonatologist and lead researcher Associate Professor Jeanie Cheong, said the research found that most babies born before 28 weeks will survive if they are offered intensive care, and 83 per cent who do survive will have no major long-term disability – compared with 97 per cent of children born on time.
"Now that we can be confident a preterm baby's risk of death on discharge is similar to that of a healthy full-term baby, doctors can hopefully provide more comfort and assurance to parents who are often very anxious when going home from hospital," A/Professor Cheong said.
Researchers were able to identify four clinical events that were associated with a higher risk of long-term disability in very preterm babies: the first two relate to major brain injury; the third to babies receiving corticosteroids to treat or prevent lung injury; and the fourth were babies needing surgery in the newborn period.
Lisa Santalucia's twin boys were involved in the research after her sons Noah and Oliver were born at 24 weeks gestation. Noah survived just one day.
"After losing Noah, I was terrified that Oliver would die even after he was well enough to come home," Ms Santalucia said. Oliver is now a healthy 13 year old with no long-term disabilities.
"It is great that other parents in similar situations can now be reassured by this research and feel more confident when they take home their baby," she said.
This research was published in The Lancet Child and Adolescent Health.
New trial could prevent lung disease in babies
Lead researcher: Dr Brett Manley
Dr Brett Manley is leading a Melbourne-based team running an international trial that could improve the survival rates of very preterm babies and decrease their risk of developing chronic lung disease.
Worldwide, approximately one in two babies born before 28 weeks' gestation will die or develop bronchopulmonary dysplasia (BPD) – a chronic lung condition associated with brain development problems and breathing difficulties later in life.
The Preventing Lung Disease Using Surfactant and Steroid (PLUSS) trial involves giving babies born before 28 weeks a steroid treatment directly into their lungs through a breathing tube, coupled with the existing treatment of surfactant, in the hope this will reduce inflammation in the lung and prevent the development of BPD. The babies are assessed at 36 weeks for signs of chronic lung disease of prematurity.
"Early research has shown a dramatic decrease in BPD with the addition of steroid to surfactant and we are hopeful for similar results in this much larger. trial. This would represent a major step forward in the treatment of preterm babies and could change clinical practice world-wide," Dr Manley said.
Zoe Starr and Luke Mitchell's twins Otto and Sid were born at 25 weeks and were involved in the trial. Otto struggled to breathe on his own and was on breathing support for the first five weeks of his life.
Ms Starr said, "We wanted to be involved in the PLUSS study so that hopefully they and future babies will benefit from this new treatment that potentially helps babies' lung development and prevents chronic lung disease."