Pregnancy research - 2018 highlights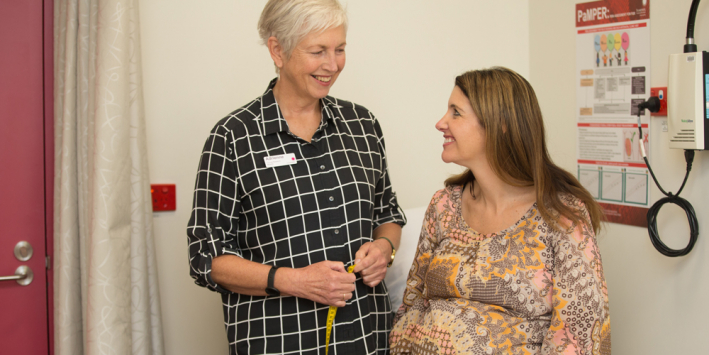 New test predicts potentially deadly pre-eclampsia
Lead researcher: Professor Shaun Brennecke
The Women's was the first Australian hospital to introduce a new blood test to help predict who will and will not develop pre-eclampsia in the four weeks following testing.
Pre-eclampsia is the most common serious medical disorder in pregnancy across the world and can be life-threatening for both women and babies.
Women who have experienced pre-eclampsia in a previous pregnancy or who have symptoms or signs of the condition are being given the test, called pre-eclampsia ratio test (PERT).
"Currently, the only way to cure pre-eclampsia is to end the pregnancy by delivering the baby, even if the pregnancy is still many weeks from full term. This test allows clinicians to assess the severity of the pre-eclampsia and to decide the best time to deliver the baby. It also allows time to stabilise the mother and prepare the baby for delivery," said lead researcher, Professor Shaun Brennecke.
"Use of PERT at the Women's has shown two thirds of women with symptoms of possible pre-eclampsia will test negative for the condition," he added. "Now we can reassure these women that they are very unlikely to develop the condition in the next four weeks and allow them to remain at home."
Hannah Torres developed pre-eclampsia in the late stages of her pregnancy. After delivering son Mateo, Mrs Torres became severely unwell as a result of pre-eclampsia and spent a week in critical care.
"Knowing that for future pregnancies I can have a test to tell me if I'm at risk of developing it again, I think that's wonderful," said Mrs Torres.
Study to predict women at risk of preterm delivery
Lead researcher: Associate Professor Harry Georgiou
A major three-year study that could result in a test to accurately predict if women will experience preterm labour during their pregnancy would enable clinicians to offer suitable, potentially life saving care to women and babies.
Lead researcher, Associate Professor Harry Georgiou said, "Every year, about 15 million babies worldwide are born pre-term and more than one million will die, mostly in developing countries. A reliable predictive test could revolutionise maternity care."
The study of more than 3,000 women involves taking mid-pregnancy swabs from participants. The swabs will be analysed for certain protein biomarkers to check how closely those biomarkers are associated with eventual preterm labour in women who suffer from this complication.
"As many as one in 10 women end up going into premature labour without warning, despite having a healthy pregnancy up to that point and having no identified risk factors. With this 'bed-side' test, we are aiming to accurately predict preterm birth, months before any symptoms arise. This would allow us to predict or delay labour by several days, or even weeks, which can make a huge difference to the baby's overall health and minimise future health complications associated with being born prematurely," said Associate Professor Georgiou.
Briony Swart experienced two preterm births at 21 weeks. After close monitoring at the Women's Preterm Labour Clinic, Briony gave birth at term to baby Ziggy. She hopes a test to identify those at risk of preterm labour will help women like her in future.