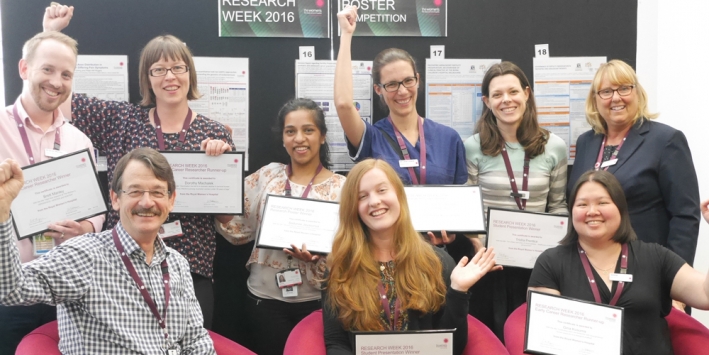 Inaugural Research Week a great success
The Women's inaugural Research Week was a great success, turning up the spotlight on the innovative and world-class research that we undertake.
Held on 19-21 November, the exciting initiative highlighted the achievements, findings and ongoing studies by the Women's international experts, early career researchers and research students.
Speakers included Prof Louise Newman who described how the BEAR (Building Early Attachment and Resilience) study is helping to improve the health of mothers and babies, and Prof Lex Doyle spoke about the world's most comprehensive long-term study into the side-effects of being born premature.
The Student Symposium featured 20 student presentations covering clinical, translational and non-clinical research. Prizes were awarded to Dr Trisha Prentice, a PhD student, for her research on the moral distress of health care professionals in neonatal intensive care units and Eliza Colgrave for her honours project investigating genes associated with increased risk of endometriosis.
Entries in the poster competition were displayed throughout the week to further showcase the diversity of our research. Prizes were awarded to Dr Laila Lorenz, whose poster featured her research into the safety of skin-to-skin care in preterm infants, and Sadunee Jayasuriya, an Honours student who has researched decision regret regarding fertility preservation in the paediatric and adolescent cancer population.
The Early Career Researcher prize was awarded to Dr Brett Manley for his research into non-invasive breathing support (high-flow) in preterm babies. Runners up were Dr Dorothy Machalek for her research monitoring HPV infection following the national HPV vaccination program and Dr Gina Kusuma for her research into the use of placental stem cell for possible therapeutic applications.
Research week finished with an insightful public lecture by Family Violence Prevention Chair, Prof Kelsey Hegarty, on "Domestic violence: the hidden epidemic in health settings".
Download the Research Week program | Download the Research Week Abstracts
---
Monday 21 November

9.00–10.30am
Student Symposium: Session 1 CONFERENCE ROOM A
Chair
Prof Lex Doyle
9.00–9.15
Pamela Gebrehiwot, Honours student
The TOCC Study: Timing of Cord Clamping
9.15–9.30
Ramin Khanabdali, PhD student
Understanding the Role of Mesenchymal Stem Cells in Ageing of the Human Placenta
9.30–9.45
Laila Lorenz, PhD student
Skin-to-skin care in preterm infants receiving respiratory support does not lead to physiological instability
9.45–10.00
Lloyd Smyth, PhD student
Differential response of Diffuse Intrinsic Pontine Glioma cell lines to microbeam versus conventional radiotherapy
10.00–10.15
Trisha Prentice, PhD student
The virtues and vices of moral distress – healthcare professionals' perspectives
10.15–10.30
Eliza Colgrave, Honours student
Investigation of Genes Associated with Increased Endometriosis Risk
10.30-10.45am
MORNING TEA
10.45am–12.15 pm
Student Symposium: Session 2 CONFERENCE ROOM A
Chair
Prof Lex Doyle
10.45–11.00
Kristin Ferguson, Medical Student
Interventions to improve rates of successful extubation in preterm infants: A systematic review and meta-analysis of the evidence
11.00–11.15
Jess Bahn, Honours student
Cytokine expression profiling and function of decidual mesenchymal stem cells from ageing term placentae
11.15–11.30
Doug Blank, PhD student
Physiologic based cord clamping improves hemodynamic stability vs umbilical cord milking in preterm newborn lambs
11.30– 1.45
Catherine Allingham, Honours student
Development and evaluation of a novel, electronic fertility preservation decision aid for parents of children with cancer at The Royal Children's Hospital, Melbourne
11.45–12.00
Adriana Marulli, Honours student
Cerebral oxygenation during skin-to-skin care in preterm infants not receiving respiratory support
12.00–12.15
Sarah Holdsworth-Carson, Early Career Researcher
Does body mass index impact on endometriosis?
12.00–12.15pm
Poster viewing (Conference Room Foyer) view the full list of Research posters
Lunch (Sandwiches and beverages provided)
1.00 – 2.30 pm
Student Symposium: Session 3 CONFERENCE ROOM A
Chair
Prof Lex Doyle
1.00–1.15
Louise Owen, Early Career Researcher
Right from the start: Improving transition and support from the first breath of life
1.15–1.30
Gwo Yaw Ho, PhD student
Targeting BCL-2 in treatment-refractory MYCN-driven high-grade serous ovarian cancer; utilizing patient-derived xenograft (PDX) models
1.30–1.45
Eoin O'Currain, PhD student
Monitors Enhancing the Education of Resuscitation sKills, A Trial (MEERKAT)
1.45–2.00
Sadunee Jayasuriy, Honours student
Decision Regret regarding Fertility Preservation in the paediatric and adolescent cancer population
2.00–2.15
Dilini Imbulana, Masters student
The ProNose Study- Use of a nasal barrier dressing for preterm infants receiving non-invasive respiratory support: a randomised clinical trial
2.15–2.30
Premilla Paiva, Early Career Researcher
Identification of genes differentially expressed during menstrual breakdown and repair
2.30-2.45pm
AFTERNOON TEA
2.45–4.00 pm
Student Symposium: Session 4 CONFERENCE ROOM A
Chair
Prof Lex Doyle
2.45–3.00
Jancy Johnson, Masters student
The effect of mesenchymal stem cell-derived exosomes on ageing of placental stem cells
3.00–3.15
Jessica Ventura, PhD student
Synchrotron MRT radiation induces DNA damage and inflammatory response in normal mouse tissues distant from the irradiated volume
3.15–3.30
Laila Lorenz, PhD student * not assessed for student prize
A new suction mask to reduce leak during neonatal resuscitation: a randomised controlled trial
3.30–3.45
Doug Blank, PhD student * not assessed for student prize
Serial lung ultrasound in healthy newborns from the first breaths to complete fluid clearance, an observational study
3.45–4.00
Eoin O'Currain, PhD student * not assessed for student prize
A Comparison of Different Round Masks for Intermittent Positive Pressure Ventilation in Preterm Infants Prior to Intubation: The Mask study

Tuesday 22 November

12.00–12.30pm
Research Week Opening CONFERENCE ROOM A
Chair
Prof Peter Rogers

Opening of research week
Dr Megan Robertson, Chair Scientific Advisory Council, BioMedVic

Launch of Royal Women's Research Strategy
Dr Sue Matthews

12.30–1.30pm
Keynote Speaker CONFERENCE ROOM A
Chair
Prof Peter Rogers

Professor Jim Bishop, CEO, Victorian Comprehensive Cancer Centre

1.30–2.15pm
Poster viewing (Conference Room Foyer) view the full list of Research posters
Lunch (Sandwiches and beverages provided)
2.15–4.30 pm
Symposium: Highlights from our Research Centres
CONFERENCE ROOM A
Chair
Prof Peter Rogers
2.15–2.30
Mr David Wrede, Women's Cancer Research
Dysplasia research
2.30–2.45
Prof Peter Davis, Newborn Research
Less is more: Supporting newborn babies using non-invasive ventilation
2.45–3.00
Prof Louise Newman, Centre for Women's Mental Health Research
Building Early Attachment and Resilience - responding to developmental risk in the antenatal and postnatal period
3.00–3.15
Dr Alyssa Cornall, Centre for Women's Infectious Diseases
Cancers, superbugs and microbiomes: using molecular biology to see what they're all getting up to
3.15–3.30
Dr Alicia Spittle, Allied Health Research
An early preventative care program for infants born very preterm and their parents improves long term parental mental health
3.30–3.45
Prof Shaun Brennecke, Pregnancy Research
Pregnancy Research at the Women's
3.45–4.00
Anita Moorhead, Midwifery and Maternity Services Research
Diabetes and antenatal milk expressing (DAME): a randomised controlled trial
4.00–4.15
Prof Lex Doyle, Centre for Research Excellence in Newborn Medicine
Are we improving the outcomes for extremely preterm babies?
4.15–4.30
Dr Yasmin Jayasinghe, Gynaecology Research Centre
Gynaecology research the continuum from childhood to menopause

Wednesday 23 November

2.00–3.00pm
Keynote Speaker CONFERENCE ROOM A
Chair
Lisa Dunlop

Professor Helen Mc Lachlan, Judith Lumley Centre, LaTrobe University

Improving the health of Aboriginal mothers and babies. Can we make a difference through partnerships, collaboration and continuity of care?

Thursday 24 November

1.00–2.00pm
Keynote Speaker: Early Career Researchers
CONFERENCE ROOM A
Chair
Prof Peter Rogers
1.00–1.20
Dorothy Machalek, Early Career Researcher
Vaccination has led to a dramatic decline in cervical human papillomavirus infections among Australian women under 36 years of age
1.20–1.40
Brett Manley, Early Career Researcher
High-flow research at The Women's: HIPERSPACE, HIPSTER and HUNTER
1.40–2.00
Gina Kusuma, Early Career Researcher
Controlling stem cell behaviour with bioengineered human placenta as a biological scaffold
2.00–3.00pm
Award Presentations CONFERENCE ROOM FOYER
Refreshments (Finger food and beverages provided)
Chair
Dr Sue Matthews and Peter Rogers

Award Presentations
Student Awards (x2)
Poster Awards (x2)
Early Career Awards (x3)

5.00–6.00pm
Public Lecture CONFERENCE ROOM A
Chair
Dr Sue Matthews

Prof Kelsey Hegarty, Chair Family Violence Prevention, Royal Women's Hospital and University of Melbourne

Domestic violence: The hidden epidemic in health settings
---
One gift to the Women's will benefit many Make a donation today