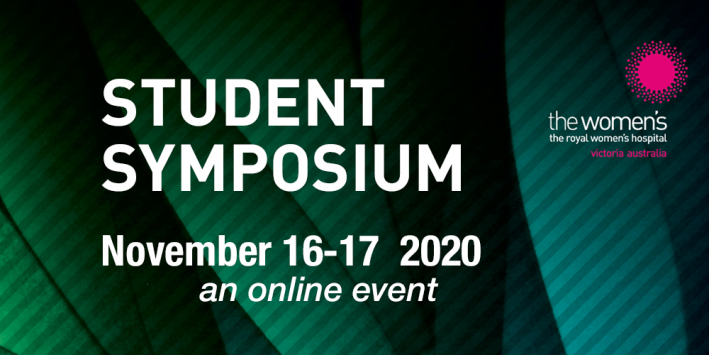 The Royal Women's Hospital
Student Symposium 2020
November 16-17 - online event -
The Student Symposium (previously known as Research Week) showcased the diverse range of clinical and translational research undertaken at the Women's by our own research students.
This year we did things a little differently, due to COVID-19. A virtual Research Poster Gallery was on display in the lead up to the Symposium. The top 20 research posters were selected and presented in online events during November.
Royal Women's Hospital Student Symposium Awards
⭐ Best undergraduate student poster and oral presentation ($500)
Sadaf Zafir (Honours, Gynaecology)
Role of MAML1 in endometrial receptivity and implantation
Nicola Tomkins (MDRP, Gynaecology)
Small molecule metabolite biomarkers of endometriosis: a narrative review with systematic approach
⭐ Best postgraduate student poster and oral presentation ($500)
Shiraz Badurdeen (PhD, Newborn)
Lung ultrasound immediately after birth predicts the need for surfactant therapy, the DOLFIN Jr Study
⭐ Best designed poster ($150 each)
Louis Taffs (Honours, Gynaecology)
Identifying and exploring the unmet needs of young adults with endometriosis
Wallace Jin (MDRP, Pregnancy)
Preterm birth: progress & promise
⭐ People's choice poster ($300)
Niamh Waters (Honours, Gynaecology)
EndoNeeds: Exploring the physical, psychological and social needs of long-term endometriosis patients
Program
Virtual Research Poster Gallery 2-17 November
Student Symposium
Monday 16 November 4-5pm
Tuesday 17 November 4-5pm
The online symposium was composed of short presentations (3 minutes) followed by 2 minutes of questions.
Downloads and Related Topics
---