The world's first surviving IVF quadruplets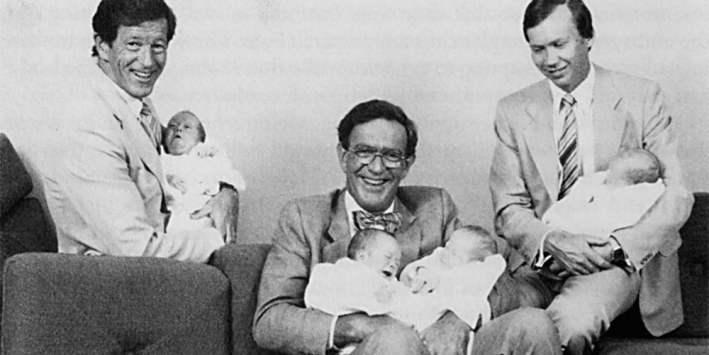 The Women's Multiple Birth Clinic – Australia's first – continues to be a leader in multiple pregnancy care and research.
March 9 – 16 was National Multiple Birth Awareness Week.
It was 30 years ago in January that four little boys – Ben, Sam, Chris and Brett – were born at the Women's and made headlines worldwide.
They were the world's first surviving IVF quadruplets and the boys were the delights of mum Helen and dad Graham who had spent years trying to have a baby before joining our world-renowned IVF program. Helen spent two months resting at the Women's before her four boys were born at 32 weeks, but she said at the time she was just so thrilled to be pregnant.
Clinical Director of Maternity Services and Director of the Multiple Birth Clinic, Associate Professor Mark Umstad said, "Our research includes studies such as investigating the risk of preterm delivery in multiple pregnancies, and monitoring the outcomes of triplet pregnancies at the Women's from 2000-2010."
Mark has also been leading an investigation, with Dr Lyndon Hale and others from the Women's Reproductive Services, evaluating the reduced impact of IVF on multiple pregnancy in Australia since 2005.
"The clinic is also actively involved with the Victorian Fetal Therapy Service through Steve Cole and Ricardo Palma Dias," Mark said.
It is not surprising that the Women's, which brings together a multidisciplinary team of leading experts, is the hospital of choice for high-risk and multiple pregnancies.