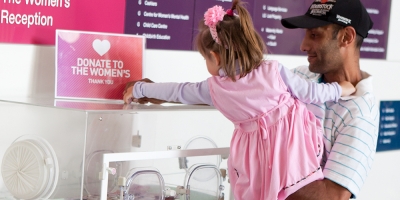 Donating has never been simpler.
You can make donations online, quickly, easily and securely. All gifts can be directed to a specific area of the hospital or to support the purchase of a particular piece of equipment. You can also request that your donation be used "wherever it is needed most".
Donations over $2 are tax deductible and tax receipts are emailed and/or posted to the donor.
Recurring gifts
Become involved and make a donation to the annual giving program. The amount, frequency and source (Visa, Mastercard or bank account) are entirely up to you.
An advantage of recurring gifts is that you do not need to keep track of multiple receipts sent during the year. One receipt for all donations made during the year is sent to you immediately following June 30th each year.
Contact the Foundation to set up a recurring gift. We'll contact you to check all details prior to processing the first gift.
How to donate
You can donate online or, if you prefer, you can donate by phone, cheque or money order.
Credit card payment online

Donate now online. Donating has never been simpler.

Credit card payment by phone

We accept VISA or Mastercard. Call the Foundation during business hours to donate.

Donation line

Call 1300 194 955 during business hours.

Send cheque or money order

The Royal Women's Hospital Foundation
Locked Bag 300
Parkville VIC 3053
Australia

Please make your cheque or money order payable to the Royal Women's Hospital Foundation
One gift to the Women's will benefit many Make a donation today