A Message from Our Patron, Lord Mayor Sally Capp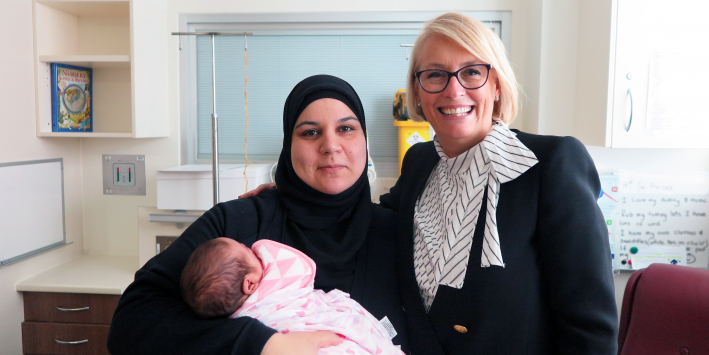 Everyone who lives, works, plays and studies in this wonderful city of ours knows that we have a proud reputation as a centre of healthcare research and innovation. That is why I am proud and honoured to be the inaugural Patron of the Royal Women's Hospital Foundation.
Many of us will have had something to do with this wonderful hospital. Your children may have born there, your mother, partner or friend may have been a patient or received advice from one of their women's health clinics. You may even have been born at the Women's yourself.
But many people do not know that the Women's cares for some of Melbourne's most disadvantaged and vulnerable women; women with very complex and challenging health care needs who require specialist support and care. This includes healthcare for women who are homeless; women with mental health issues; and women who have experienced sexual assault or family violence.
The Women's Foundation plays a critical role in raising funds to support some of these specialist women's health services; and through its efforts, has made a tangible and lasting difference ot the lives of thousands of women. The Foundation also supports lifesaving research that delivers new treatments, cures and hope for vulnerable preterm babies as well as women of all ages and all stages of life.
For over 160 years the Women's has ensured that women from every walk of life have access to exceptional health care. The hospital now cares for over 200,000 women each year providing expert advice, support and the highest standards of care.
Thanks to the efforts of the Foundation and its supporters, over $2M was donated to the hospital last year to fund a range of work that simply couldn't happen without the generous support of our community. I have seen first-hand just what a difference the funds raised by the Foundation can make for women and newborns, including some of the most vulnerable in our community.
Melbourne is a caring community and is rightly proud of its specialist women's hospital. We can only achieve great things if we work together, which is why I am proud to support the work of the Royal Women's Hospital Foundation as its Patron.
Please join me in supporting this important work.
Sally Capp
Lord Mayor of Melbourne
---