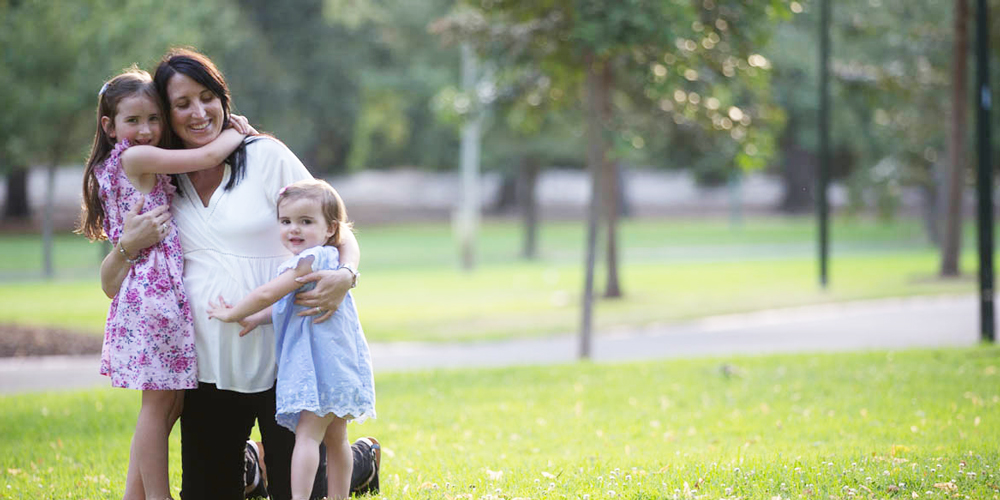 Emma was 29 weeks pregnant with her first child when she realised her baby had stopped moving. She came to the Women's and tragically, was told that her baby had died.
"Almost immediately after I gave birth to my baby boy Max I couldn't breathe, my vision blurred. My liver and kidneys were shutting down."
Emma was rushed to intensive care. Max's death and Emma's medical emergency were caused by pre-eclampsia. Researchers at the Women's have led the way in trialing a new blood test that can accurately predict late in pregnancy whether a woman will go on to develop pre-eclampsia. The test was so successful that it has been quickly introduced into clinical practice, benefiting women like Emma.
Having experienced pre-eclampsia previously, Emma was at higher risk of having the condition again. For her next two pregnancies she was referred to the Women's, and gave birth at full term to two healthy girls.
Emma is now expecting her fourth child. "I have no worry at all knowing I'm in the safest hands. I feel so fortunate to have my miracle babies, and I owe it all to the Women's."
The Miracle Mums Appeal raises funds for life-saving and life-changing healthcare for mums and newborns at the Women's. Your support is greatly appreciated.