All Newborn Behavioural Observations (NBO) training in Australia and New Zealand is currently paused.
Please email us at nboaustralia@thewomens.org.au if you would like to attend workshops later this year, or in 2021.
To help us prioritise and plan, include your Profession, Organisation, City/Town, State, and best contact number.
You are welcome to email us with any additional queries, please be aware that we may not be able to respond immediately.
Thank you for your understanding at this very challenging time.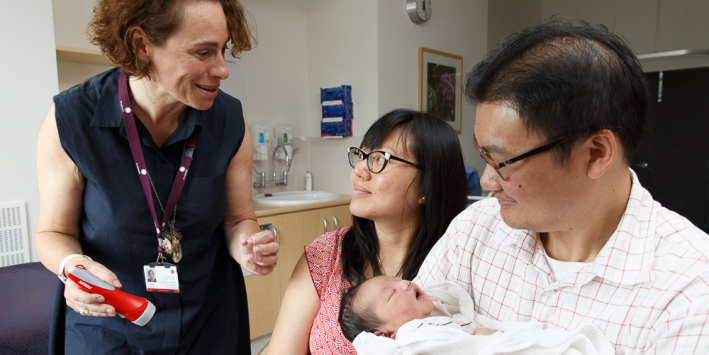 The Newborn Behavioural Observational (NBO) system is a structured set of observations designed to help the clinician and parent together, to observe the infant's behavioural capacities and identify the kind of support the infant needs for his successful growth and development.
A supportive, nurturing relationship that is sensitive and responsive to the infant's needs optimises neurological and psychological development. There is also a growing body of evidence to show that attachment plays a role in the development of some diseases in adulthood.
The Women's is the official training centre in Australia and New Zealand for the NBO system developed by the Brazelton Institute, Boston (MA, USA).
What is the NBO system?
The NBO system consists of a set of 18 neurobehavioral observations, which describe the newborn's capacities and behavioral adaptation from birth to the third month of life. While it describes the infant's capacities, the NBO provides parents with individualized information about their infant's behavior, so that they can appreciate their baby's unique competencies and vulnerabilities and thereby understand and respond to their baby, in a way that meets her/his developmental needs.
While the NBO was developed to meet the needs of parents, it is designed in its ease of use to be a helpful tool for obstetric, midwifery and paediatric professionals who work with parents during the perinatal period. The NBO was designed as a relationship-building method that can be flexibly administered and that offers individualized information to parents about their baby, with a view to promoting a positive bond between parent and child and between themselves and the parents and family. For that reason, the NBO is best understood as a relationship-building tool. It is inherently interactive and family-centred, because parents are involved as partners in the NBO session throughout. So, while the NBO aims at fostering positive parent-infant interaction, it also aims at promoting a positive relationship - a partnership - between clinician and parents.
Health professional training for NBO
Training is provided over two days and provides participants with the theoretical foundations and clinical principles necessary to enable them to use the NBO in their clinical practice.
The NBO training program provides participants with the theoretical foundations and clinical principles necessary to enable them to use the Newborn Behavioral Observations (NBO) system in their clinical practice. Use of the NBO in clinical practice will provide parents with important information about their baby's remarkable capacities and individuality. It will help parents develop a positive relationship with their newborn child.
We hope to train all professionals working with new mothers (and fathers) and newborns in the use of the NBO thus providing all new families with the best opportunity for maternal wellbeing and a healthy mother-infant relationship.
Testimonials and Feedback
Please select the following link to the NBO Testimonials page.
NBO Faculty
Ms Danielle Atkins
Dr Naomi Thomas
Dr Megan Chapman
---
Support for The Centre for Women's Mental Health
Liptember has been an important contributor to the success of the Newborn Behavioural Observational (NBO) program in the Centre for Women's Mental Health at the Royal Women's Hospital.
Liptember's donations helped us cover set up costs, prepare materials, introduce the NBO to regional centres - and then they enabled us to extend our reach by going national. Liptember's contributions meant we could assist others to implement the NBO, and recently, supported us to develop two BEAR research projects using the NBO: 'UNA' and 'Safe Mothers, Safe babies'.