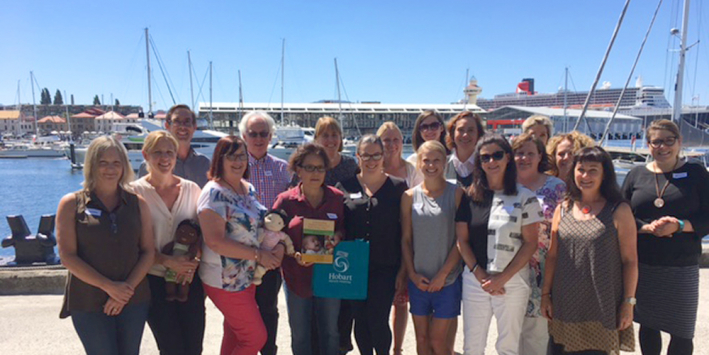 Newborn Behavioural Observations (NBO) training is offered by NBO Australia based at the Women's, the official training centre in Australia and New Zealand for Newborn Behavioural Observations (NBO) developed by the Brazelton Institute, Boston.
NBO training is available for a range of professionals working with families with newborn and very young infants including midwives, maternal and child health nurses, paediatricians, neonatologists, obstetricians, social workers, perinatal psychiatrists, infant mental health clinicians and family support workers.
All Australian NBO workshops have been approved by the RACGP QI&CPD Program in the 2017 - 19 triennium.
40 Category 1 points – (Activity: 109798)​
NBO System training for professionals in 2019
MELBOURNE, Victoria, Australia
Monday 25 & Tuesday 26 November 2019
Twilight workshop: Monday 25 November 2019, 3pm - 7pm
Full day workshop: Tuesday 26 November 2019, 9am - 5pm
The Royal Women's Hospital, 20 Flemington Rd, Parkville VIC 3052
Online booking or via Booking form
MELBOURNE, Victoria, Australia
Monday 10 & Tuesday 11 February 2020
Twilight workshop: Monday 10 February 2019, 3pm - 7pm
Full day workshop: Tuesday 11 February 2019, 9am - 5pm
The Royal Women's Hospital, 20 Flemington Rd, Parkville VIC 3052
Online booking and Booking form available soon
Cancellations and refunds
Refunds can be provided up to 7 days before the event. If you book a training session but do not attend, no refund will be given. A refund will only be available if cancellation is made at least one week prior to the first booked session.
If for any reason the scheduled training is postponed or cancelled, registrants will be contacted and a refund of registration fees will be arranged.
To be notified of upcoming NBO workshops in your local region, please email the NBO Australia training faculty at the Women's with your name and nearest city, and ask to be added to the event mailing list.
Essential reading
Understanding Newborn Behaviour and Early Relationships: The Newborn Behavioural Observations (NBO) System Handbook by Kevin Nugent et al, published by Brookes, Baltimore
Training materials and purchased books will be supplied at the commencement of Day 1 of the workshop.
What is the NBO?
The NBO is a structured session designed to help the parent to observe, together with the clinician, their infant's behavioural capacities and to identify the kind of support their infant needs for successful growth and development. It is a relationship-based tool designed to foster the parent-infant relationship.

It consists of a set of 18 neurobehavioural observations, which describe the infant's capacities and behavioural adaptation from birth to the third month of life. The 18 items include observations of the infant's:
capacity to habituate to external light and sound stimuli (sleep protection)
the quality of motor tone and activity level
capacity for self-regulation (including crying and consolability)
visual, auditory and social-interactive capacities and preferences (alertness and responsiveness to human and non-human stimuli
While the NBO aims to reveal the full richness of the newborn's behavioural repertoire, the clinical focus is on their individuality, on the aspects of behavior that make this baby a unique person. In other words, the NBO provides the baby with a "voice", with a "signature". It gives the baby an opportunity to tell their parent who he or she is, what her preferences are, what her vulnerabilities might be and in what areas she may need support. By providing a behavioural profile of the infant's strengths and challenges, the NBO provides clinicians with the means to offer individualized guidance to help parents meet their baby's needs. This, in turn, helps parents develop the kind of confidence they need to support their baby's development and enjoy the experience of being a new parent.
The ease of use of the NBO makes it a helpful tool for professionals working clinically with parents in the perinatal period. It is flexible and can easily integrated into routine home visits. It is inherently interactive and family-centered, because parents are involved as partners in the NBO session throughout. The NBO fosters both positive parent-infant interaction, and a positive relationship - a partnership- between clinician and parents.
What does the training constitute?
NBO Australia at the Women's provides NBO trainings at various venues around Australia. Typically two of the training faculty members work with groups of 25 clinicians.
Training to become a certified NBO provider constitutes three steps:
An initial two hour afternoon or twilight training session,
Followed by a full-day training workshop
Followed by the clinician conducting and writing up five NBO sessions by themselves (including one videoed intervention) and providing these to the trainers.
The NBO Australia Training Faculty Includes Associate Prof Campbell Paul, Dr Susan Nicolson, Dr Naomi Thomas and Dr Megan Chapman. Training has been developed at the Royal Women's Hospital, in association with Infant Mental Health at the Royal Children's Hospital and the University of Melbourne.
Where can I get more information?
Contact us for further information on NBO training in Australia.
---
---