Victorian Perinatal Autopsy Service (VPAS)
The Victorian Perinatal Autopsy Service (VPAS) provides a co-ordinated state-wide service ensuring consistent standards of practice and expertise for the clinical investigation of perinatal deaths across Victoria.
Provision of Perinatal Autopsy Services during the COVID-19 pandemic
More information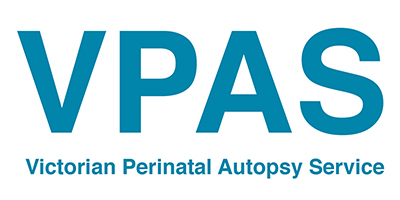 The three Victorian tertiary maternity hospitals providing these services are The Royal Women's Hospital (the Women's), Monash Health and Mercy Hospital for Women, and their associated pathology departments at the Austin and the Royal Children's Hospital.
The establishment of this service is an initiative of the Victorian Government to improve the quality and timeliness of investigations and advice following the death of a baby from 20 weeks gestation. The Women's is leading the establishment and co-ordination of the VPAS and is working with the other tertiary maternity services.
Please note: The following information has been prepared for health professionals and maternity health services. The contents of this webpage may be distressing to some people, particularly to parents or caregivers who have experienced the loss of a baby during the perinatal period.
If you require professional advice or support regarding your particular circumstances, please contact your health care provider directly.
Benefits of a centralised service
The tertiary hospitals providing the VPAS all have perinatal specific trained pathologists who are highly experienced in providing high quality post mortem examinations and reports. The VPAS Guidelines are based on the 2018 Clinical Practice Guidelines for Perinatal Mortality by the Perinatal Society of Australia and New Zealand (PSANZ guidelines). The tertiary hospitals providing the VPAS strictly follow the post mortem examination processes and procedures as outlined in the VPAS guidelines. In addition, perinatal trained pathologists have access to a range of qualified specialists to provide the necessary ancillary testing recommended by VPAS.
The service is available to public as well as private patients and there is no charge for registered deaths. A registered death is a baby who is at least 20 weeks gestation or shows signs of life at birth regardless of gestation or if unknown gestation, weighs 400g or more.
Please refer to 2018 PSANZ Guidelines, found on the PSANZ website and the VPAS Guidelines (download from this page).
Maternity Providers
Maternity providers are encouraged to send all registered perinatal post mortem examinations to one of the three tertiary hospitals as recommended in the referral guidelines.
More information.
Funeral Providers
All regional funeral providers will be reimbursed for transport costs for transferring registered babies to and from the three tertiary hospitals for the post mortem examination.
More information.
Information for Families
The Women's website has a large body of information to help families with any questions they may have during this period (see related information below). There is also a printed information leaflet available to help parents better understand the post mortem process.
Information for health professionals
An information sheet with summary information about VPAS for health professionals can be downloaded from this page.
---
---