The Women's hosts launch of new resource to help hearing impaired patients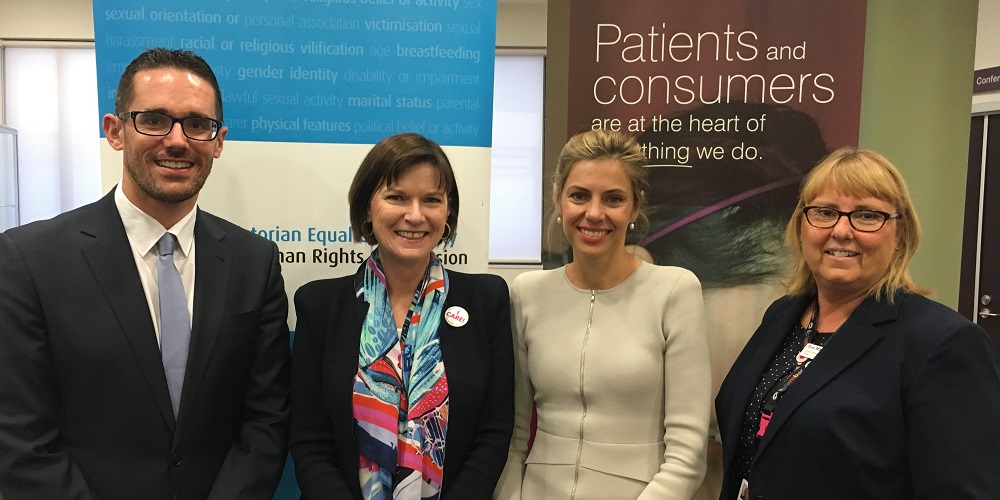 19 October 2016 | Events
Signs for Health, a new resource to help hearing impaired patients, launched today at the Women's in the National Week of Deaf People.
Victorian Parliamentary Secretary for Health, Mary-Anne Thomas MP, today launched the new resource developed by the Victorian Equal Opportunity and Human Rights Commission (VEOHRC) to help improve Auslan and communications access for hearing impaired people.
Signs for Health is an important new web-based resource, with a range of materials available for hospital staff and patients to assist people who are deaf, hard of hearing or deafblind. It provides information for those patients about their rights to Auslan interpreters and other communications access when they go to hospital, and includes information in Auslan.
The resource has been developed in response to recommendations by the EOHRC. The Commission undertook a consultative review of how Auslan interpreters are provided to patients in Victorian hospitals. A reference group, including the Women's and Bendigo Health, responded to the recommendations.
Safe, high quality healthcare is important for all people in Victoria. Auslan (Australian Sign Language) is the first language for nearly 3000 people in Victoria, and many more are hard of hearing.
"We know health outcomes are dramatically improved when there is clear communication between a patient and their healthcare provider. This builds trust and reduces mishaps for patients and clinicians alike", said Mary-Anne Thomas MP.
EOHR Commissioner Kristen Hilton said that all present needed to make a commitment to ensure the resource was available to those who need it. Many patients' healthcare has suffered from lack of clear communication.
Visit the Signs for Health website for more information.
Media contact
For more information contact the Women's Media Team on (03) 8345 2028 or (03) 8345 2921.
---
One gift to the Women's will benefit many Make a donation today