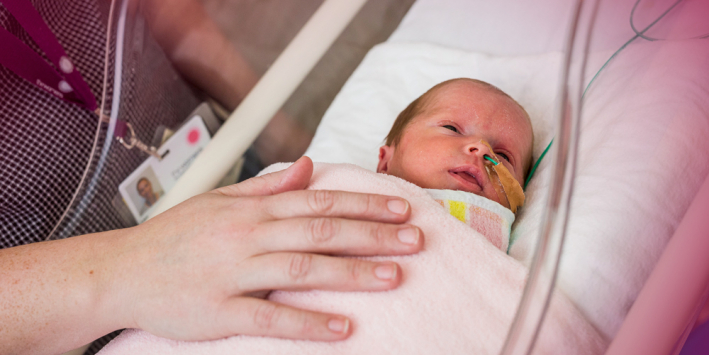 "I gave birth to Ella at 26 weeks and she weighed only 780 grams. She had to be in intensive care for over three months. It was extremely stressful. We went from getting ready to bring home a healthy baby girl to facing the hardest time of our life."
—Stephanie, whose daughter Ella was born prematurely
Your gift will help save the lives of babies like Ella.
When a premature baby ends up in our intensive care unit, we need to have the best equipment on hand to monitor their vital signs and breathing.
We've recently upgraded our nursery in Sandringham to include eight special care cots for babies who are born prematurely or have serious complications.
Now we urgently need to buy four new monitors and other lifesaving equipment for our special care nursery in 2018.
The new monitors remove the need for premature babies to stay in isolated incubators for observation, because their vital signs will be constantly recorded. This will keep mothers and their newborns together with more opportunity for skin-to-skin contact.
Those first few days and weeks together are so crucial for new mums to bond with their babies.
Every year more than 1,600 fragile babies like Ella will spend time in our neonatal intensive care unit and special care nursery.
Please make a donation this Christmas and make an amazing difference to how premature and sick babies are cared for in our nursery.
Help provide new monitoring units and other lifesaving equipment Make a donation today