"I'll never take my babies for granted"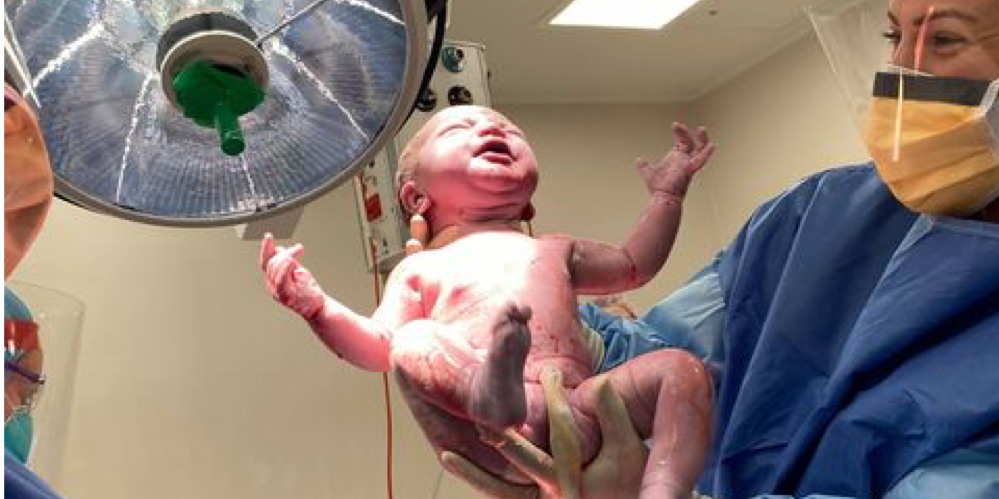 14 October 2020 | Pregnancy | Your impact
Lyndall has had six pregnancies but has given birth to just two babies. For Pregnancy and Infant Loss Remembrance Day (15 October), she has bravely decided to share her experience of recurrent miscarriage to give comfort and hope to others.
They say a picture says a thousand words and for parents Lyndall and Delaney, this photo of baby Lilah's first breath does just that.
Lilah was born at the Royal Women's Hospital on 13 September 2020, weighing four kilos.
"It was a magical experience, as soon as her head was out she was crying and we were elated. It was incredibly emotional," said Lyndall.
For Lyndall and Delaney the life and joy in this photo celebrates the birth of their second child – but it also marks the end of a difficult journey of pregnancy loss and grief.
Lyndall had her first child, Matilda, in 2016. She enjoyed being pregnant and had a straightforward birth. The thought of having any future problems with pregnancy or birth didn't even cross her mind.
But when she and Delaney wanted a sibling for their daughter, they faced problems.
"I was eight weeks pregnant and I went for a scan. They said they couldn't find the fetus – and that it's likely a miscarriage has happened. I was just heartbroken," said Lyndall.
Four months later Lyndall and Delaney fell pregnant again and while the trauma of recent miscarriage dampened their excitement, they said that hope remained.
"With the sadness still weighing heavy from our previous loss, we went to have a scan at eight weeks' gestation. They couldn't find a heartbeat - and just like that, we experienced our second miscarriage," said Lyndall.
"It was so difficult but we wanted to keep trying. We quickly fell pregnant again, but at six and a half weeks' gestation we experienced another miscarriage. Fear really set in that we might not be able to have another baby.
"I felt like I had let my husband down. I felt like I had let my daughter down. People were questioning why we weren't having more children. It all weighed so heavy on my shoulders."
Lyndall and Delaney were then referred to the Women's Recurrent Miscarriage Clinic by their GP.
"When I saw Professor Shaun Brennecke it immediately changed my outlook. For an experienced medical professional to assure me that none of this loss was my fault was the biggest relief," said Lyndall.
Head of the Women's Pregnancy Research Centre, Professor Brennecke specialises in preventing problems that many women face in pregnancy such as pre-eclampsia, fetal growth restriction, preterm labour and miscarriage.
He ran an extensive range of tests with Lyndall and found that she had a mild blood clotting disorder and said Lyndall should take half an aspirin a day from when she fell pregnant until 36 weeks' gestation – and come in for regular check-ups.
"At every appointment, Professor Brennecke was completely honest, he cared, he listened, answered all of our questions and kept our anxiety at bay. As our baby grew, he said we could be cautiously optimistic," said Lyndall.
"At 20 weeks I opened up to him about my struggles with bonding with the baby inside of me. With Matilda, I felt like I had a connection with her before she was born - I used to speak to her when I was on my own! But I was so afraid to connect with my bump, because I was just so scared to lose her.
"Professor Brennecke was so understanding, he referred me to a counsellor at the hospital's Centre for Women's Mental Health. I had around four sessions with them, which really helped me navigate through those feelings."
When Lyndall and Delaney went into hospital for the caesarean birth, they felt they were nearing the end of a long and emotional journey.
"When we were taken into theatre, Delaney and I shut everything out and zoned into each other's eyes. For us this was the end of 24 months of loss and grief. And then we heard her come into the world and we were just so incredibly overjoyed," said Lyndall.
"When I held Lilah for the first time I told her how hard we had fought for her. I was and still am so, so grateful - and gratefulness is where I believe happiness is. I'll never take my babies for granted. Matilda is such an awesome big sister and we are so proud."
Professor Shaun Brennecke leads the Women's Recurrent Miscarriage Clinic and said: "The desire to bring new life into the world is one of the most compelling of human ambitions. Sadly, achieving this ambition can be a very challenging journey for many couples, given that one in four pregnancies miscarry and one in a hundred babies are still born or die shortly after birth.
"At the Recurrent Miscarriage Clinic, we aim to provide women experiencing miscarriage with knowledge and understanding about this problem so that they can be empowered to face the future with hope, confidence and self-belief.
"So often, a woman in this situation blames herself for the loss of a pregnancy, and reassuring her that this is not the case and that there is every chance she will be able to have the children she so fervently wants is a key part of the care we offer."
Lyndall concluded her story with a message of thanks to the Women's:
"The support and care that we had from everyone at the Women's has just been incredible. We feel so lucky to have had Professor Brennecke on our side, and the staff in theatre with us and midwives and doctors that we had were just amazing. We can't thank them enough."