Breaking the cycle of homelessness for at-risk mothers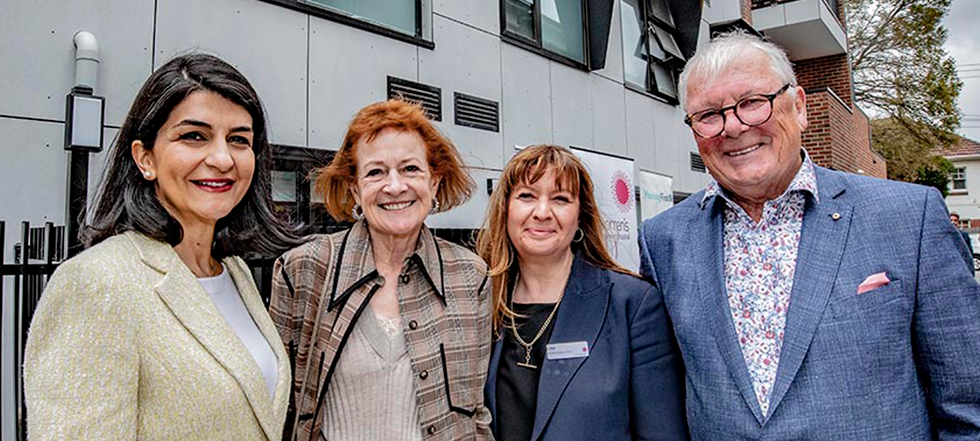 5 April 2022 |
Mothers experiencing homelessness are being given a chance to thrive through an Australian-first health, housing and support program.
Pregnant women experiencing insecure housing now have a supportive pathway to:
safe accommodation
social services
compassionate health care.
This is thanks to a collaboration between the Royal Women's Hospital, HousingFirst and Launch Housing.
The Cornelia Program aims to break the cycle of insecure housing for vulnerable women and their babies.
It is the first such collaboration in Australia between a hospital, a housing provider and a homelessness service that focuses on this cohort of at-risk women.
Speaking at a special event held last Saturday, Acting Chief Executive Lisa Lynch explained that innovative projects such as this one need a long-term vision and strong support from many people.
"This multi-disciplinary, multi-agency health, housing and support program is an Australian first. Given the extreme vulnerability of pregnant women experiencing insecure housing, a collaboration of this kind needs expertise from a variety of organisations, giving mothers and their babies the very best chance to overcome the cycle of poverty and homelessness," said Ms Lynch.
"We are incredibly grateful to our big-hearted donors, Professor John McBain and Dr Penny Foster for their vision and incredible generosity, along with substantial Victorian Government investment. We are so grateful to have such supportive funders, they have been fundamental to this unique program becoming a reality."
The program provides women with access to transitional accommodation in a new apartment complex operated by HousingFirst, as well as wrap-around health care and social support provided by the Women's and Launch Housing.
Participants have access to accommodation for up to 12 months and receive specialist maternity health services, along with support to access other health and psychosocial programs. They are also provided with guidance and support to access long-term and stable housing.
Keeping mother and baby together, in a safe and secure location, provides women in the program with the best opportunity possible to care for and stay with their child, with an emphasis on keeping the baby safe and supporting the mother-child attachment.
Opportunities for children are improved when they grow up in a stable and supportive environment. This program seeks to break the inter-generational cycle of disadvantage by providing women with a secure and safe environment to gain skills and independence and the best place for their child to thrive and succeed.
The Melbourne site was acquired by HousingFirst, with support from the Victorian Government, through the Victorian Property Fund and Homes for Home.
The Cornelia Program will operate for a minimum of five years and will be formally evaluated to provide evidence of its overall impact.