Celebrating 40 years of newborn emergency transport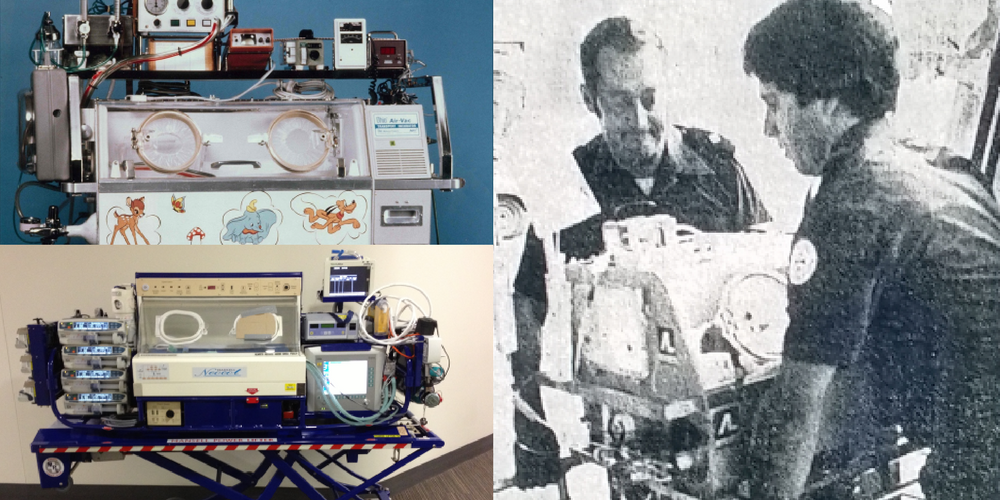 4 October 2016 | Events
Forty years ago, the first Newborn Emergency Transport Service (NETS) took to the streets of Melbourne to safely bring newborns needing specialist care to the Women's.
The service was the brainchild of the late neonatologist Dr William Henry "Bill" Kitchen, who saw the need for the special ambulance service after discovering babies of very low birthweight born outside of the then-three university-affiliated maternity hospitals in Victoria had worse health outcomes and often did not survive.
One of the first to join the NETS service in 1976 was Dr Neil Roy, who had trained in neonatology and the transport of babies overseas.
"I was the only person in Melbourne who had that experience at the time, so I kind of fell into it," Dr Roy said. "It turned out to be a great career."
Based at the Women's, the service transported newborns to the neonatal intensive care units four Melbourne hospitals – the Women's, the Mercy Hospital for Women, Monash Medical Centre and the Royal Children's Hospital.
By 1984, the NETS team recorded 650 transfers a year using tailor-made equipment that cost a total of just $6500. That number today is around 1300, and the equipment costs $200,000 but looks largely similar to its original design.
Dr Roy said the other important service NETS provided was the transfer of babies out of the four major hospitals to their suburban, regional and country counterparts once the babies were stable. In 1984, there were 158 returns of babies to their local hospital. Now, more than 1550 returns occur each year.
In 2011, the Royal Children's Hospital (RCH) took over the governance of NETS and the Perinatal Emergency Referral Service (PERS) from the Women's and joined the two services with the Paediatric Emergency Transport Service (PETS), bringing all three under the new name of PIPER – Paediatric Infant Perinatal Emergency Retrieval.
Dr Roy said the neonatal arm of PIPER had gone from "strength to strength". "It has made a very significant difference to the way mums and babies are cared for in this state," he said.