Celebrating Mother's Day in the time of COVID-19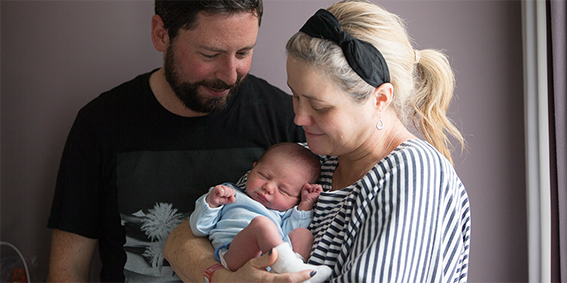 8 May 2020 |
Celebrate your mum. Celebrate being a mum. And connect with family and loved ones in different ways this Mother's Day. That's the message from the Royal Women's Hospital, as families across Victoria approach Mother's Day under State of Emergency restrictions.
More than 3000 babies have been born at the Women's in Parkville and Sandringham so far this year, more than 1300 since the State of Emergency was declared.
Director of the Centre for Women's Mental Health, Professor Louise Newman, said it's been an anxious time for many expectant and new mums.
"It's very common to feel quite stressed at the moment. Everyone knows what it's like to try and deal with a certain degree of anxiety because we're living in an uncertain time," she said.
"But the social isolation for many new mums is not what they expected. So there's a real sadness for some. Their expectations of having family around, friends around, having grandparents involved with the new baby… people are finding that hard."
Common activities to spoil mum on Mother's Day, such as large family gatherings at home and dining in cafes and restaurants, are out this year. Technology will likely feature heavily.
"Technology can help make sure that extended family and friends can be there and be supportive, and provides that social connectedness," Professor Newman said.
"On Mother's Day, mums should really stop and congratulate themselves on how well they've done being a mother in a difficult time. These are unprecedented times. And the ritual of Mother's Day still matters, even if we have to do it differently."
The Centre for Women's Mental Health is encouraging new mums (and partners) to:
Enjoy time at home getting to know your baby – To help make the most of this precious time, check out the Raising Children Network for great resources and advice around parenting newborns.
Take it one day at a time – Parenting can be challenging and some days will be harder than others. Give yourself a break and try not to be self-critical.
Focus on what you can control – Remember that experts around the world are working hard to combat COVID-19. Focus on what you can control – your own environment and actions.
Limit your exposure to news – Consuming large volumes of negative information online and via the news can heighten feelings of anxiety. If you find it upsetting, switch it off.
Try and establish a routine, but be flexible – Having some kind of structure to your day can make it feel more manageable. But don't worry if the routine lapses, babies are very adaptable.
Keep in touch with people – Whether it's over the phone, via video call, email or on social media, keeping connected with others can support your mental health and wellbeing.
Maintain your physical health – Try and keep active, eat healthy foods and get enough rest.
Seek help – Some degree of stress is normal, but if worrying becomes excessive and you find it hard to cope with daily life it's time to reach out and get support.
The PANDA national helpline is available to support the mental health of expecting and new parents, including those worried about the coronavirus. Visit www.panda.org.au or call 1300 726 306 (9am-7.30pm, Mon-Fri, AEST/AEDT).
Beyond Blue also has a dedicated Coronavirus Mental Wellbeing Support Service. Visit https://coronavirus.beyondblue.org.au/ or call 1800 512 348 (24 hours, 7 days a week).