Gentler breathing support can help premature babies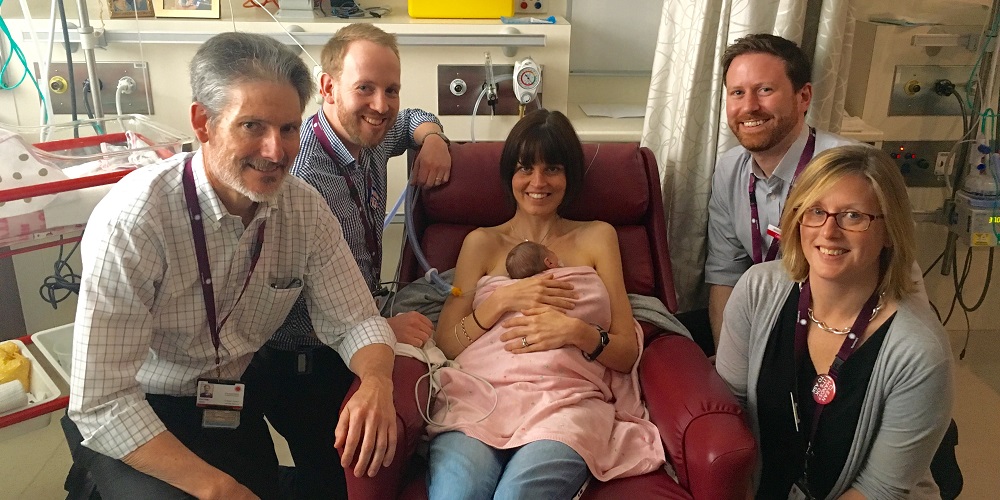 22 September 2016 | Pregnancy | Research and clinical trials
The largest ever international study of a gentler, non-invasive breathing treatment for premature babies, led by Women's Newborn Research Team, has shown promising results as a first-line support.
Published today in the New England Journal of Medicine (NEJM), the Nasal High Flow as a Primary Respiratory Support for Preterm Infants (known as HIPSTER) trial tested the use of nasal high flow – small prongs placed in the baby's nose and gently attached to their cheeks – as an early way of supporting breathing in 564 pre-term babies.
The method was compared with more established breathing supports, particularly a method called CPAP, which uses larger prongs fitted into the baby's nose and tubing strapped to a special hat the baby must wear.
The Women's newborn research fellow and lead author Dr Calum Roberts said the findings showed nasal high flow could be considered as a first option of breathing support for many pre-term babies, particularly those born a bit older and stronger.
"Although most babies managed very well with nasal high flow, the smallest and sickest newborns were still more likely to need additional breathing support from other techniques, such as CPAP," Roberts said.
"High flow has the advantage of being a simpler, gentler and more comfortable support for babies and is much easier for health professionals to apply and maintain. It also provides parents greater ability to hold and care for their baby than the more cumbersome CPAP device."
The HIPSTER trial's publication today in the world's most influential and prestigious medical journal further cements the Women's and the Newborn Research Team as a world leader in investigating new techniques to support breathing in babies who have difficulties at birth.
Funded by the NHMRC, the two-year trial began in 2013, was conducted across nine research centres in Australia and Norway and is the biggest ever neonatal high flow trial conducted.
Dr Roberts said the Women's team was continuing to lead research into nasal high flow to more clearly determine which babies would benefit the most from the treatment.
"We are especially interested in its use in regional settings and developing countries," Dr Roberts said.