Going home to aid recovery after low-risk caesareans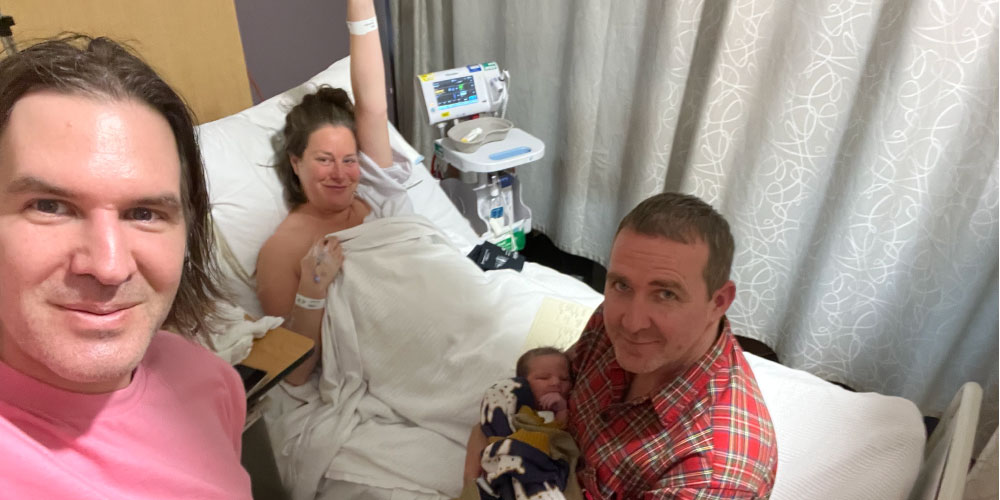 27 October 2022 | Pregnancy | Babies
People who have had a planned caesarean section are able to access the Women's hospital services in their home as part of a new program designed to aid recovery.
Through the Enhanced Recovery After Caesarean (ERAC) pathway, people who have had a low-risk, elective caesarean can go home 24 hours after their surgery, if clinically safe to do so. Currently, most patients who have a caesarean section at the Women's stay in hospital for two to three nights.
Once home, the mother remains a patient of the Women's and is seen by midwives at home for extra post-operative care as well as mother and baby checks.
The benefits of recovering at home
The Women's obstetrician Dr Vijaya Lakshmi Karanam is the obstetric lead on the ERAC program. She says being able to recover from low-risk surgery at home has many benefits for patients and their families.
"In America, Europe and the UK it is the norm for women who have had a caesarean to go home after one night in hospital. We have seen a lot of evidence from these countries that it's not only safe to go home, it is actually clinically safer than staying in hospital as there is decreased risk of deep vein thrombosis," Dr Karanam says.
"You recover well at home both physically and emotionally. At home, you are in your own environment so you are up and about, you can sleep when you want to sleep and you are not disturbed by the comings and goings at the hospital or by other patients in shared rooms.
"Emotionally, being at home means the whole family gets to bond with the baby and you don't have to worry about visitor restrictions keeping you apart."
Dr Vijaya Lakshmi Karanam is the obstetric lead on the ERAC program
An empowering experience for Dominique and her family
Dominique Hall had both her children, Hopper (four) and Minka MC Hall (five months), via caesarean section at the Women's.
Her first birth was an emergency caesarean and she stayed in hospital for three nights. Early on in Dominque's second pregnancy when it was established that she would need a planned caesarean, Dr Karanam suggested Dominique could be a part of the new ERAC pathway.
"I was a bit taken aback at first because it seemed quick to go home after one night," Dominique says.
"But as Dr Vijaya explained, if everything was okay then it would be fine to go home and if things weren't okay, then we wouldn't have to leave, so I felt good about it. I didn't feel like we were getting ejected or neglected."
For Dominique and her family, which includes her co-parents James and Markian, it was an overwhelmingly positive experience.
Midwives from the Women's visited her the day after she got home, and then again two days later. She also had ample support from family and friends at home.
"It helped me mentally to know that the care was continuing with the midwife visits," she says.
"I really came away feeling so empowered and cared for and understood and listened to, and all the things you would hope for during this time. It really makes me emotional thinking about it. It was a really positive and wonderful experience."
The ERAC pathway is one of a number of the Women's Hospital in the Home initiatives. The Induction of Labour initiative sees some pregnant patients commencing the induction process from home. A Maternity Hospital in the Home Program is being piloted for antenatal patients, while a new pathway is being developed for the Women's Health patients to access specialised services from the Royal Melbourne Hospital.