Help give women like Tonette the best possible chance of a healthier future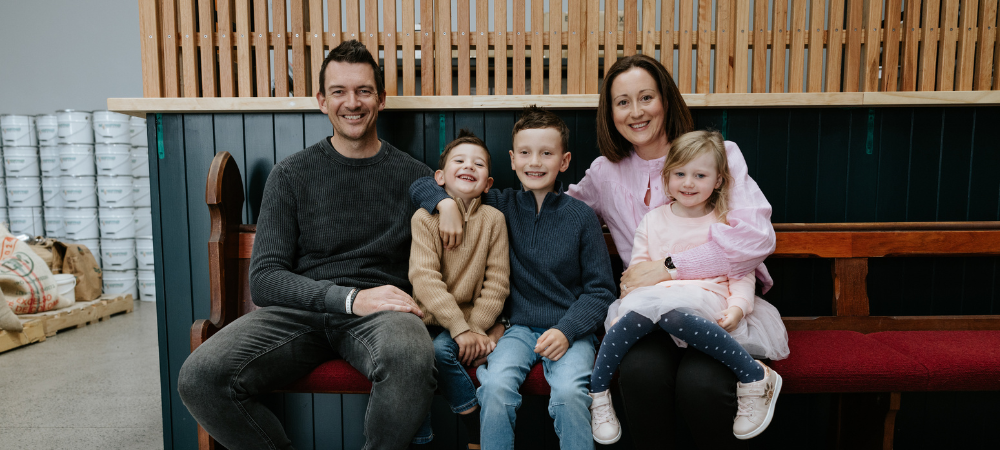 22 May 2023 | Cancer | Fundraising
Victorian mum Tonette's life was turned upside down when she was diagnosed with a rare and potentially fatal condition.
We are grateful to Tonette for sharing her and husband Paul's story as part of the Women's Winter Appeal 2023.
Tonette and her husband had always wanted to grow their family after having their first child, Harry.
They were excited to find out that Tonette was pregnant for a second time. However soon into her pregnancy, Tonette noticed it was very different to her first.
"I was at seven weeks when I started spotting and I'd had no morning sickness at all. It just didn't feel normal," Tonette says.
Tonette's instinct was right. She visited her doctor and after he did initial tests, he turned to her and said: "I'm really sorry. There was a pregnancy but there's no heartbeat."
Tonette was heartbroken to learn she had miscarried, but the worst was yet to come.
"That weekend was a long weekend, and I was so sick. I mean really, really, sick," she says.
Tonette went back to her doctor and was shocked when he said: "I think I know what it is, I've never seen one in Australia, and I've probably only seen three in my whole career. It's called a molar pregnancy – but don't Google it."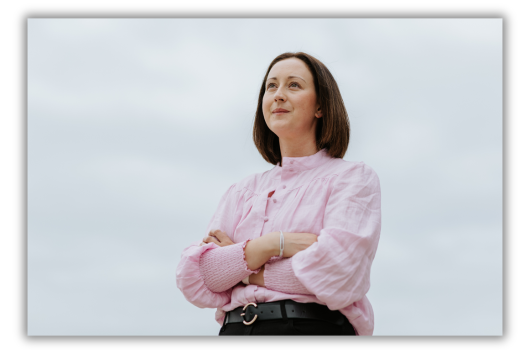 Molar pregnancies
A molar pregnancy is a very rare condition of pregnancy where there is unusual and rapid growth of part or all of the placenta. In some cases, the placenta can become malignant, and a rare form of cancer (choriocarcinoma) develops.
Amazingly, Tonette took her doctor's advice and stayed away from Google.
Sadly, when a molar pregnancy was confirmed, Tonette was given the devastating news that she did indeed have choriocarcinoma.
"I was referred to the Royal Women's Hospital: the only place in Victoria with the clinical expertise to manage my health issue," she explains.
"When I met the doctors and they explained I was going to need chemotherapy, I said: 'Look do whatever you need to do. The only goal we have here is that I live, I've got a one-year-old at home and that's all that matters'."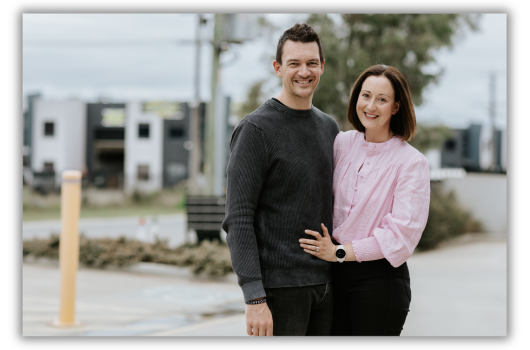 Tonette's cancer treatment journey
Over the coming months, Tonette would endure four gruelling rounds of increasingly aggressive chemotherapy.
"We started off with injections but unfortunately, they didn't work, and they found spots on my lungs as well," Tonette says.
"We went to see the oncologist and they explained: "There's shelf one, shelf two and shelf three. We've tried shelf one. It didn't work, now we're onto shelf two."
Unfortunately, shelf two treatment made Tonette "violently ill". She went back to her doctor who said: "We're going to have to go to the top shelf. With this one you will definitely lose your hair."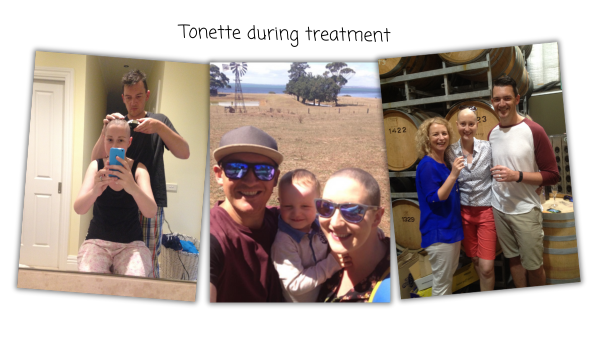 Tonette's parents fly in to support her
When she started her final treatment, Tonette's parents flew out from Ireland to be by her side.
The family had already suffered the loss of Tonette's sister who had passed away from brain cancer. So it was really important to Tonette to be as positive as she could.
"I made the decision: I was going to be fine. I was going to survive. The Women's was very good at reassuring me and making me feel supported," Tonette says.
It was when her parents were with her that Tonette noticed her hair starting to fall out.
"I was in the shower washing my hair and there was just this clump in my hand," Tonette recalls.
Not wanting to alarm her parents, Tonette hid her hair loss from them. Her husband Paul shaved her head, after her parents returned home to Ireland.
"It was quite liberating to be honest. I just let go and thought: 'It's going to be fine, it will grow back'."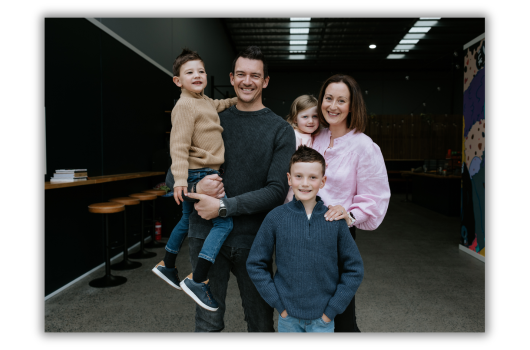 Tonette's positive future
When Tonette completed her treatment in January 2015 her scans were clear with no evidence of disease.
Tonette is eternally grateful to the Women's for the world-class treatment and support she received.
"The Royal Women's Hospital is just, in itself, amazing. From the minute you walk in the door, the nurses, the staff, everybody is always so supportive, nothing is ever too much," Tonette says.
She is particularly grateful to her specialist Associate Professor Orla McNally, who is the Director of the Women's Oncology and Dysplasia Service.
"We were incredibly lucky that I was treated at the Women's and we got the help I needed. Because of Dr McNally and her team, I am here, I survived," Tonette says. "And Paul and I were able to go on and have more children."
Tonette is passionate about supporting the work of our researchers including Dr McNally.
"It's so important to support these areas of work so more can be done and things like molar pregnancies are understood. Actually, it's important to support all areas of women's cancer to educate and discover better treatments," Tonette says."We will continue to support the hospital in any way we can because our family wouldn't be here without the Women's."