How volunteering at the Women's inspired Kate to become a Midwife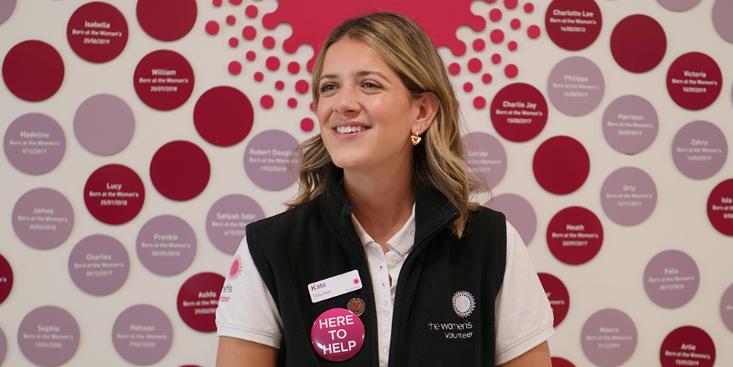 3 December 2021 | Volunteers
Kate Liesching always knew she wanted to work at the Royal Women's Hospital. Volunteering showed her where she could help most, and inspired the 26-year-old to pursue a career as a midwife.
Kate was sitting with a patient in the emergency department who was distressed and alone, at the height at the COVID-19 pandemic in 2020. She was volunteering as a Guide and Waitroom Support person, and found herself going back to check on the woman during the course of her shift.
"I stayed with her and made sure there was someone who could pick her up later on. Being her support person was very rewarding, I felt like I was making a difference," said Kate, who first started volunteering at the Women's in 2018.
Ahead of International Volunteer Day (5 December), the Women's is celebrating 200+ volunteers who give their time to the hospital – be it as guides, patient supports, administration helpers or crafters.
With a degree in Public Health and Health Promotion, Kate's volunteering journey started with fundraising activities and branched into guiding and supporting patients.
"Helping people with various levels of need around the hospital, talking to them and bringing them where they need to go. That made my feel very valuable," she said.
"I would always leave my shift with a smile on my face because I had connected with people and had been able to assist them."
During her time spent volunteering, Kate became familiar with the different departments across the hospital. It was the midwives who stood out the most to her – working hard to keep pregnant women healthy, informed and feeling safe and supported while delivering their baby.
Inspired by their dedication, in 2019 she commenced a Bachelor of Midwifery. Her persistence has since paid off, and in February 2022 she will start her new role as Graduate Midwife at the Women's in Parkville.
"I believe I was meant to be a Midwife. I fell in love with the people and the environment at the Women's during volunteering and I feel incredibly grateful to be able start my career as a midwife here," Kate said.
"Being a midwife aligns with my values and who I am as a person, it means I have the opportunity to support, advocate, empower and encourage women to birth in a way that makes them feel safe."
Volunteer Program Lead Niamh Condren said while policies and procedures were modified during the pandemic, volunteers had continued to play a valuable role in supporting visitors, patients and staff.
"Volunteer support has such a big impact on patients' experience of healthcare. They help patients feel comfortable and supported as they access services at the Women's, which creates better experiences and ultimately contributes to better health and wellbeing outcomes," she said.
"Kate's story perfectly captures how important volunteers are to the hospital, as well as how valuable the volunteering experience is! It is so inspiring to see people like Kate taking the patient-centred values of volunteering into their future careers."
While COVID has impacted some volunteering activities, Niamh said the Women's is looking forward to welcoming its existing cohort of volunteers back, and is also looking to recruit additional Guides and Waitroom Support Volunteers in 2022.