Inspiring story of strength to launch our Mother's Day Appeal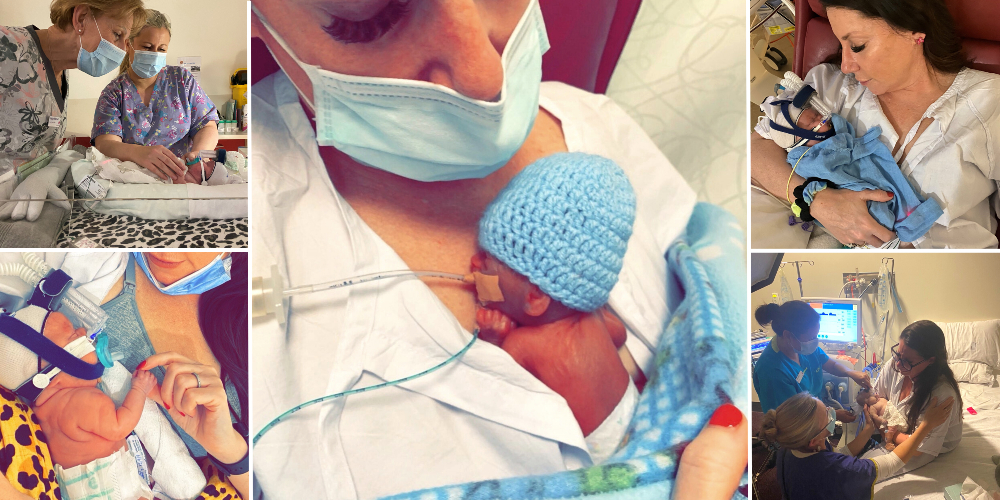 26 April 2022 | Your impact
The Women's is highlighting the story of Celeste and baby Teddi as part of our annual Mother's Day appeal. Teddi was born very premature and passed away after fighting for 110 days in our NICU. Warning: story speaks about infant loss.
Celeste had always wanted to be a mum. After 12 long years, the unimaginable happened and she became pregnant with Teddi. Finally, Celeste and her family could celebrate the amazing news.
But at 20 weeks, she started to experience complications. With severe pre-eclampsia and her kidneys shutting down, medical staff were doing all they could to give Teddi a fighting chance.
Tragically, Celeste's health continued to deteriorate and Teddi was born at 24 weeks, weighing just 422 grams. A micro premmie, he was too weak to breathe on his own and was immediately put on mechanical ventilation at the Women's.
Celeste is telling her heart-breaking story to launch the Women's Mother's Day Appeal in the hope that her experience will inspire others to show their support.
"I had amazing support from my family, but they couldn't come into the hospital. I spent 110 days in the Women's NICU, so it was my home away from home, and the staff were like family. I would cry on their shoulders, and we had some pretty tough conversations," recalls Celeste.
Teddi's biggest challenge was that his lungs had not developed enough to breathe on his own. But he was a fighter and after spending his first few weeks on a ventilator, he progressed to the less invasive treatment of Continuous Positive Airflow Pressure (CPAP), a procedure which helps the air sacs in a pre-term baby's lungs stay open.
Over the 110 days they spent in the Women's NICU, Celeste and Teddi formed a close bond with their care team – including nurses, medical staff, social workers, even administrative and cleaning staff.
Research plays a big role in the Women's NICU. During her time with us, Celeste came to understand the importance of clinical research and the potentially life-changing impact neonatal research can have on a pre-term baby's life.
"Teddi was always extremely high risk but we never gave up," explains Associate Professor Louise Owen, a specialist doctor who was on Teddi's neonatal team and who is a member of the Women's Newborn Research Centre.
"Studies through the first few hours, days and months of a preterm baby's life are so important. They help us to understand - how do we deliver different medications; how do we make procedures more manageable for them? The more we learn, the better the treatment we can deliver."
As is sometimes the case with such critically ill babies, even with round-the-clock care and support, the battle was too great for Teddi and he passed away peacefully in his mother's arms.
"He was a fighter," says Celeste. "He fought for 110 days thanks to the nurses, doctors, and staff's love and care; and them allowing me to stay with him. He knew I was there with him."
About the Women's Mother's Day Appeal
The Women's Mother's Day Appeal helps to raise vital funds for research, equipment and specialist support for patients like Celeste and Teddi.
If you would like to donate, please visit our donation page.