Making a difference through research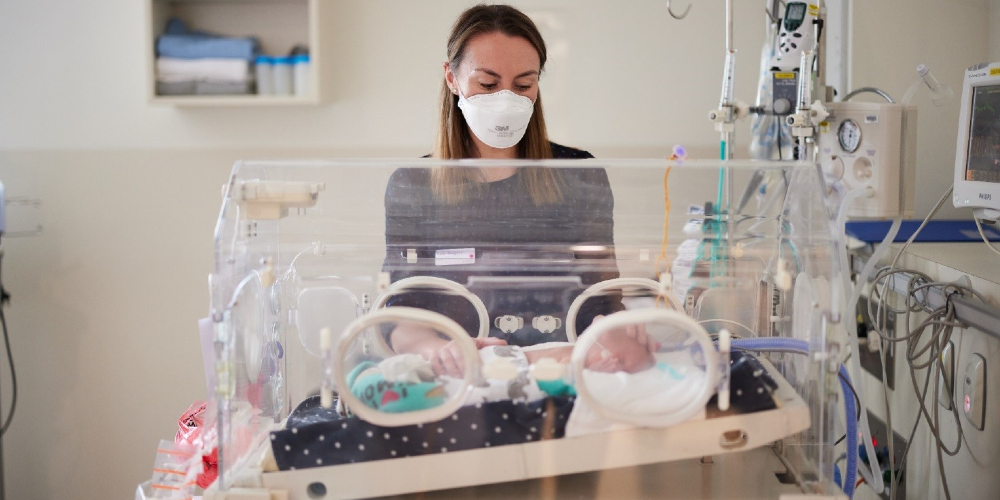 28 October 2022 | Research and clinical trials | Staff | Your impact
The Royal Women's Hospital's annual Research Report was launched last night at an event celebrating the achievements of the hospital's ten research centres.
A study to improve outcomes for babies with breathing difficulties, research that finds some IVF patients are being given false hope, and a project to improve how Victorian health services support victim-survivors of family violence are among the 20 research projects showcased in the Women's 2021 Research Report.

The Women's Chief Executive, Professor Sue Matthews said the Women's research capability and impact continues to grow.
"In 2021, we held 62 clinical trials and published 278 peer-reviewed medical papers, contributing to global knowledge on the full spectrum of women's and newborn health," Professor Matthews said.
She said the Women's ten research centres cover the full gamut of women's and newborn health: gynaecology, newborn research, women's cancer, infectious diseases, pregnancy research, family violence prevention, midwifery and maternity services, allied health, mental health and anaesthetics.
"Through our research, we deliver innovations and improvements directly to the women and babies in our care," Professor Matthews said. "Our researchers and clinicians work together to research life changing treatments and evidence-based approaches, which are then translated to inform the care we provide to our patients."
The Women's Director of Research, Professor Peter Rogers said the impact and reach of the Women's research would continue to increase in coming years.
"We started a total of ten major new research projects last year – funded by the National Health and Medical Research Council and the Medical Research Future Fund – and held $31.4 million worth of grants for research," Professor Rogers said.
"We aim to continue to expand the depth and breadth of our research and undertake new research into underfunded and stigmatised areas of women's health."

Professors Matthews and Rogers thanked the many funding agencies, donors, charitable trusts and patients (past and present) who have helped bring new discoveries to life, by contributing funds towards the Women's research.