Maternity program awarded for improving Aboriginal health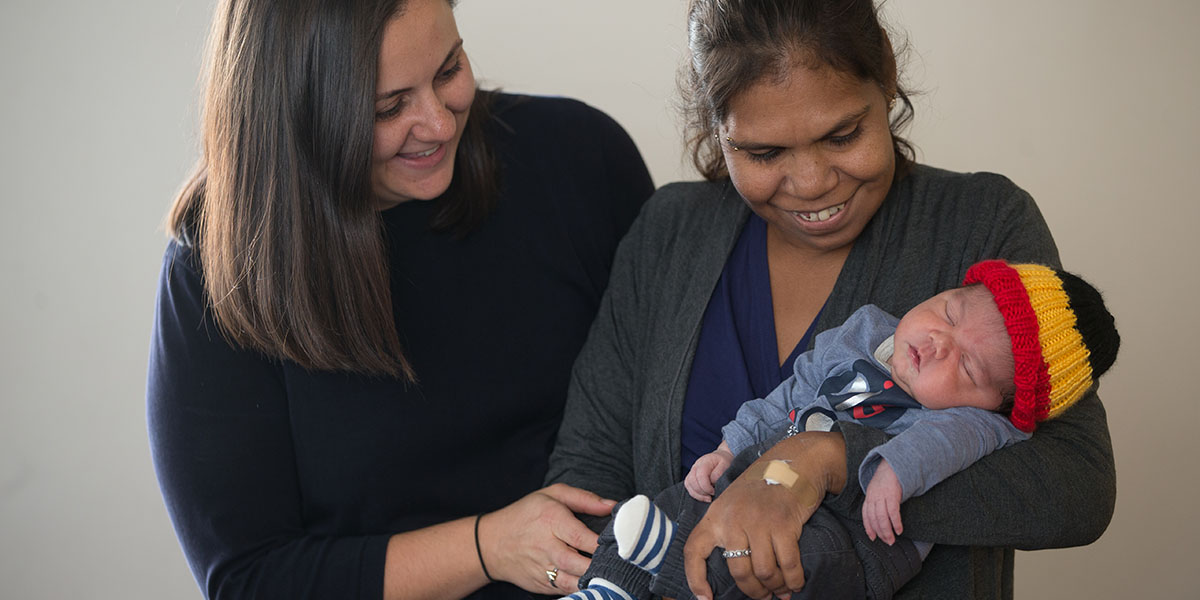 22 November 2019 |
A program at the Women's that supports Aboriginal and Torres Strait Islander women through pregnancy, during labour and birth, and in the postpartum period has received the state's top award for improving Aboriginal health.
The Baggarrook Yurrongi program, meaning 'woman's journey' in Woiwurrung, was recognised at the 2019 Victorian Public Healthcare Awards this week (20 November).
The collaborative project, funded by the NHMRC, was led by a team from the Judith Lumley Centre at La Trobe University, and included the Women's, the Victorian Aboriginal Community Controlled Health Organisation, Western Health, and Mercy Hospital for Women.
Professor of Midwifery at the Women's and Judith Lumley Centre, Della Forster, said the program was aimed at improving health outcomes for mothers and babies, as well as improving women's experiences of care.
"Across the three participating hospitals there has been an enormous increase in the number of Aboriginal women accessing 'caseload' midwifery – the gold standard of midwifery care," she said.
"Women in the program are matched with a midwife who they see throughout their pregnancy, labour, birth and in the early weeks postpartum. As well as providing one-to-one, culturally safe care, the midwife is able to provide links to existing services, help negotiate hospital systems that can be intimidating, and ensure a seamless transition between community, hospital and home."
This one-to-one model of care has previously been shown to deliver substantial health benefits. In 2016, La Trobe University and the Women's published the results of the world's largest randomised trial comparing standard maternity care with one-to-one midwifery support. More than 2,300 women were involved in the trial. The one-to-one midwifery model of care was found to reduce childbirth interventions such as caesarean section, result in fewer admissions to neonatal special care, increase rates of breastfeeding, and reduce length of hospital stay.
CEO of the Women's, Dr Sue Matthews, said the Victorian Public Healthcare Award was acknowledgement of the passion and dedication of the Baggarrook Yurrongi team.
"In addition to positive clinical outcomes, Aboriginal and Torres Strait Islander women accessing Baggarrook Yurrongi report feeling safer, more satisfied, and more supported emotionally. That is a brilliant result and I want to thank all the team involved, "she said.
More than 170 Aboriginal and Torres Strait Islander women have accessed the program at the Women's since it commenced in 2017.