Navigating life after NICU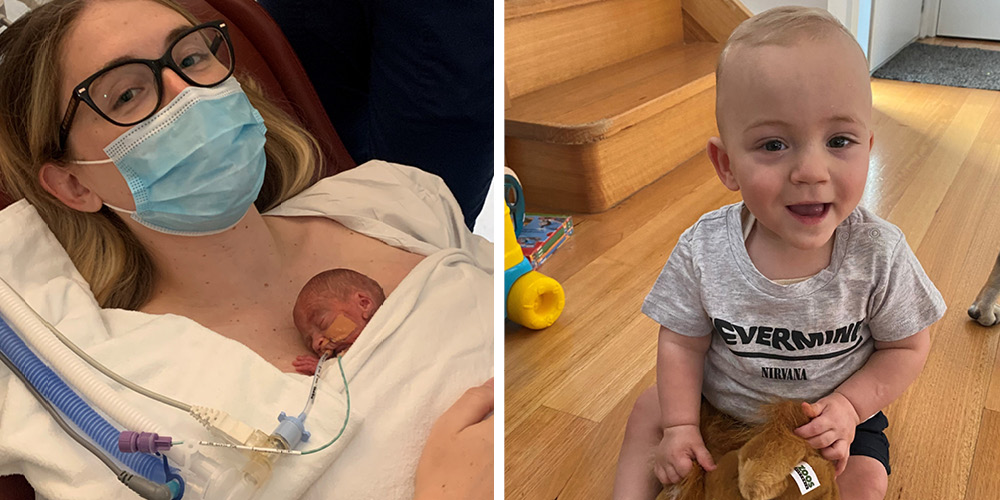 12 July 2022 | Staff | Babies | NICU
The Women's UPstart program helps families of extremely premature babies to navigate life after the Neonatal Intensive Care Unit (NICU).
Oscar Sheean did not have an easy start to life. When he was born at the Royal Women's Hospital in February 2021, he was 23 weeks' gestation and weighed just over 500 grams.
His twin brother, Harry, sadly passed away after six days.
Oscar continued to fight for his life, spending four months in the Women's NICU.
For Oscar and Harry's parents, Hannah and Brent, taking Oscar home from hospital at 37 weeks' gestation carried with it concerns. While they were excited to go home, they were also anxious knowing they would not have the support of nursing staff or round-the-clock monitoring they had when Oscar was in hospital.
"As NICU parents, going home was scary because he was so tiny – he was only 2.4 kilograms by the time he went home. Not having the support of nursing staff was nerve-racking," Hannah says.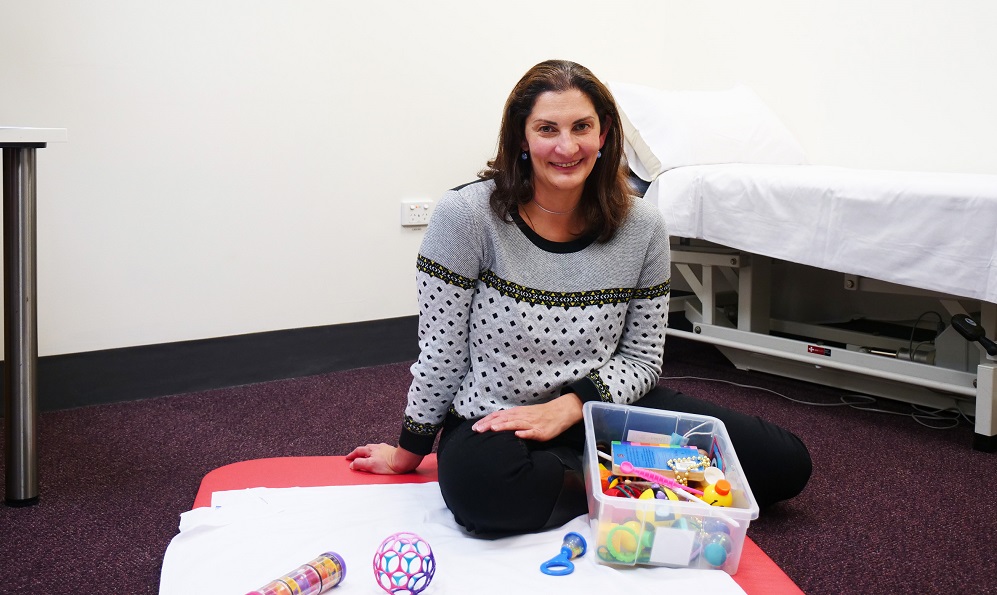 The Women's physiotherapist Rochelle Lester says the UPstart program is incredibly rewarding for allied health practitioners, as well as for families.
Support continues after families go home
That's where the Women's UPstart program comes in.
The UPstart program monitors high-risk infants discharged from the Women's NICU to ensure they are meeting their developmental milestones, such as rolling, moving, crawling and pulling to stand.
Babies in the program meet with physiotherapists and occupational therapists at the Women's throughout their first year of life. These allied health specialists conduct assessments based on the babies' corrected age, looking for issues with movement or muscle tone. They also provide play ideas and activities for parents to practice with their little ones at home.
Physiotherapist in the Women's neurodevelopmental care team Rochelle Lester says the purpose of the clinic is to identify babies with movement or development delays and refer them to specialised paediatric services. Where infants are hitting their developmental milestones, the aim is to provide support and reassurance to parents.
"Early on when they're in the NICU, there's so much focus on the medical side of a baby's health. But once they go home, parents concerns become less about survival and more about questions like, 'will they be able to walk?'," Rochelle says.
"It's incredibly rewarding to be able to follow the journey throughout the first year and to give reassurance to parents."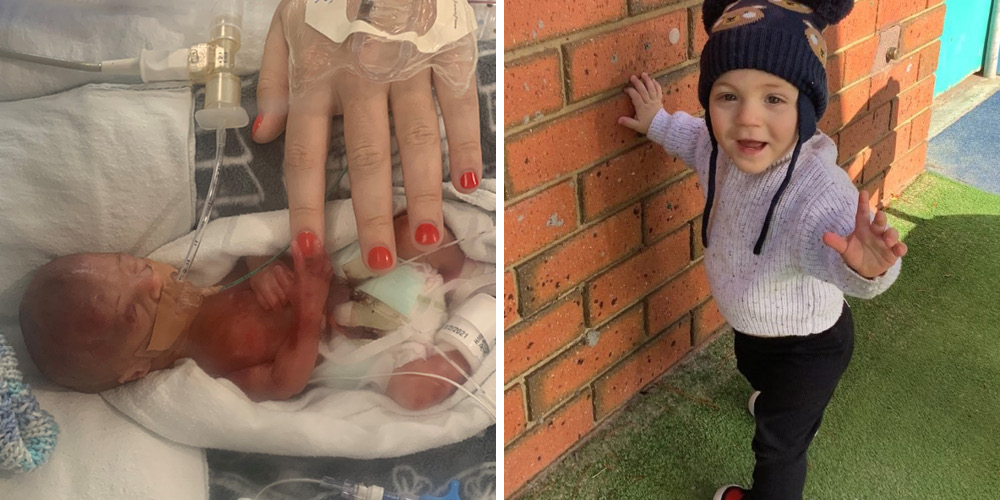 Oscar weighed just over 500 grams when he was born at 23 weeks gestation. Today, he is a happy, healthy toddler.
Nailing life after NICU
Oscar had multiple appointments through UPstart at the Women's between July 2021 and March 2022. Hannah says during the appointments she was able to voice any concerns she had about Oscar's development, like when he started to crawl before he could sit.
"If there were different developmental things that I was worried about or wanting to work on, the physiotherapists would give me examples and exercises of how best to help him," she says.
By the time Oscar was discharged from the program in March 2022 at 13 months (9 months corrected), he was sitting, crawling and pulling himself up to stand. Given he was born at just 23 weeks' gestation, his progress impressed both his parents and specialists, Hannah says.
"The physios said, 'You're a legend little mate!'," she laughs.
"I think every premature baby should be able to go through a program like UPstart and have this level of support. For us as parents, the support from UPstart has been key to helping us navigate that first year of life at home."