Born in a pandemic, twins' NICU journey nears end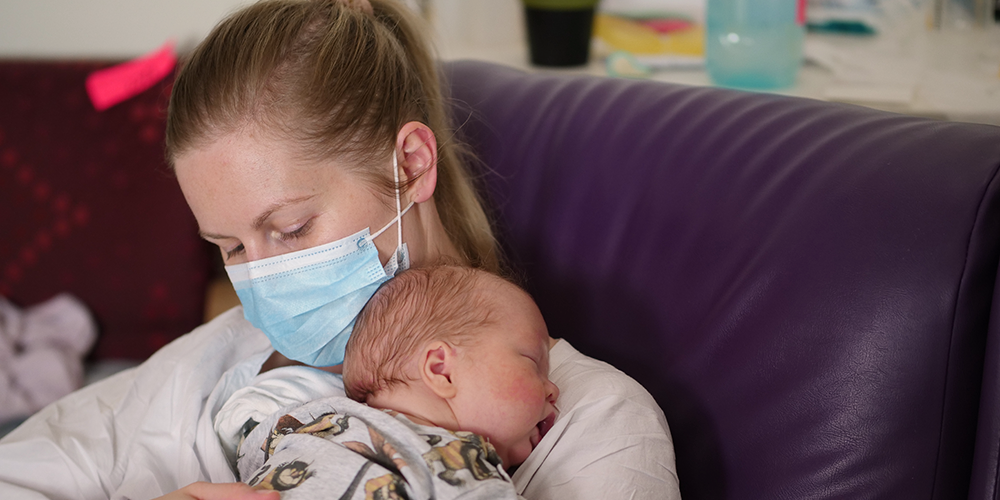 16 September 2020 | Pregnancy | Your impact
After nearly five months at the Royal Women's Hospital, there aren't too many members of staff from the Newborn Intensive Care Unit who haven't met parents Jasmyn and Jordan – and their twins Harvey and Amelia.
Born 15 weeks early after pregnancy complications (including Jasmyn's waters breaking early), the twins have been fighting for their lives with the help of NICU doctors, nurses and other experts.
While the coronavirus pandemic has been front of mind for most Victorians, the health of their babies has been the only concern for these new parents. COVID-19, they say, has been pushed to the sidelines.
Baby Harvey has now surpassed the 4kg mark, up from 805 grams at birth. Amelia was smaller at birth, weighing just 509 grams, but has managed to grow to 3.2kg.
But their significant progress has not been without its challenges; both were diagnosed with Chronic Lung Disease, and pregnancy complications meant that Amelia's lungs were much less healthy than her brother's.
As Harvey approaches his discharge date, and with Amelia due to stay in for another six weeks, Jasmyn has described their NICU journey as a rollercoaster – made more difficult by the fact that the siblings are on different rides.
"There has always been a lot of concern for Amelia and, on many occasions, we've been left with the confronting question of whether she will actually make it. That, in itself, has been incredibly distressing," says Jasmyn.
"Harvey has always been a few steps ahead and will be discharged first. They are on different journeys and they need me in different ways. Some days are worse than others but they've both turned a corner recently and I'm enjoying the moment."
When Harvey and Amelia were born on 27 April, the total number of COVID-19 cases recorded in Victoria was 1,349. Now, a number of months on, the number is approaching 20,000.
"The health of our twins was our first priority and COVID was pushed to the back of mind, but that's not to say it hasn't had a profound impact," says Jasmyn.
"Our long NICU journey has been lonely, and it was made more difficult without family and friends surrounding us. It's put an invisible wall up between families in the NICU, and I know we would have benefited from the mother and father groups to connect with other parents.
"But the most important thing is that our babies' care has been consistently amazing, and COVID-19 has not impacted their health in the slightest."
An important part of the Women's NICU is the involvement of the parents, as clinicians know it can be a testing time for them as well as their babies.
"When it felt like it was all too much, I reached out to social worker Nina for help," says Jasmyn.
"Nina reminded me to take each day as it comes and not to think too far ahead. This was a steep learning curve because I like to plan everything! And she also reminded me to take care of myself as well as my babies, which really helped."
With home now in sight for Harvey, and just a few more weeks of care for Amelia, Jasmyn and Jordan are looking forward to a sense of normality when they return home to Armstrong Creek near Geelong. But the Women's will continue to hold a special place in their heart.
"We will miss the brilliant and beautiful people who work in the NICU. They saved our babies' lives and we'll be forever grateful."