Staff go above and beyond for 'Queen of the ward' discharge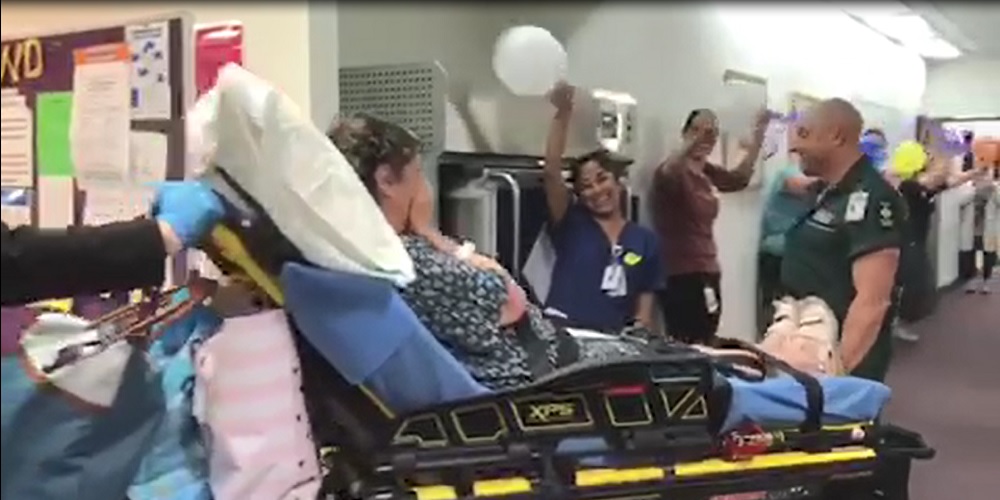 6 May 2020 |
An emotional video shot by Royal Women's Hospital staff of 81-year-old Yvonne Stillburn being waved off by those who cared for her with balloons and music has reached more than 16,000 people on social media.
Following a 60-day stay, Yvonne was discharged from hospital after three surgeries for a serious gynaecological condition and extensive care from the Women's gynaecological cancer specialists.
Providing the day-to-day care to Yvonne was nurse Stacey Reid, who started her graduate year at the Women's in November 2019.
"Yvonne really was the Queen of the ward, and it was a very emotional time for everyone when she was discharged after such a long stay," said Stacey.
"A few of members of the team clubbed together to buy her a new dressing gown and some slippers as a farewell gift, and many came in on their day off just to wave her good-bye.
"Yvonne really made an impact on everyone here in ward 5 North. She never failed to put a smile on everyone's faces, so the least we could do was put a smile on hers. I'm so glad that, after such a long stint here, she can be with her family."
In a letter to the hospital written as she was being discharged, Yvonne said she was 'leaving a second family'.
"Every nurse was caring, friendly and efficient, going above and beyond to make sure I was comfortable. But one was exceptional, she was reassuring, kind and became a friend indeed. She helped me through some tough times with humour and great nursing, that nurse was Stacey Reid," wrote Yvonne.