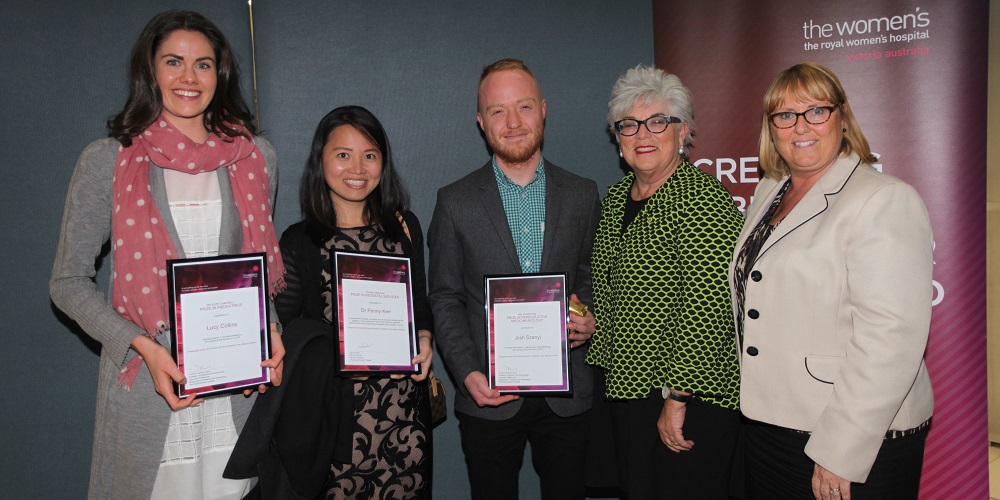 24 October 2016 | Events
The Women's recently celebrated the annual Tracy Maund Oration and Medical Student Awards at the Bio21 Institute. The prestigious awards are named in honour of two of the Women's founders, Richard Tracy and John Maund.
Presenting the student awards, the Women's CEO Dr Sue Matthews said the hospital was committed to research and education, and congratulated this years' recipients for their leadership and dedication.
"Each year we take this opportunity to celebrate the continuation of a strong collaboration between the Women's and the University of Melbourne School of Medicine in recognising talented students performing at the top of their fields in reproductive biology, neonatal paediatrics and women's health," Dr Matthews said.
Congratulations to the 2016 winners:
Josh Szanyi, the Ian Johnston Prize in Reproductive Medicine/Biology
Lucy Collins, the Dr Kate Campbell Prize for Neonatal Paediatrics
Yonaton Kok, the Edgar Mable Coles Prize for Women's Health
Dr Penny Kee, the Rex Betheras Prize in Neonatal Services
The evening also hosted the Tracy Maund lecture, delivered this year by Dr Mukesh Haikerwal AO, a GP and former president of the Australian Medical Association with a keen interest and insight into information technology in the medical sphere. Dr Haikerwal's lecture was titled 'Forging the Future – Making IT Work'
Related information
Read more about the founders of the Women's - the Ladies' Committee (including Mrs Frances Perry and Mrs Elizabeth Tripp) and the two doctors who joined the Ladies' Committee to found the 'Melbourne Lying-in Hospital and Infirmary for Diseases of Women and Children' (now the Royal Women's Hospital).
---