Women's volunteers take home innovation award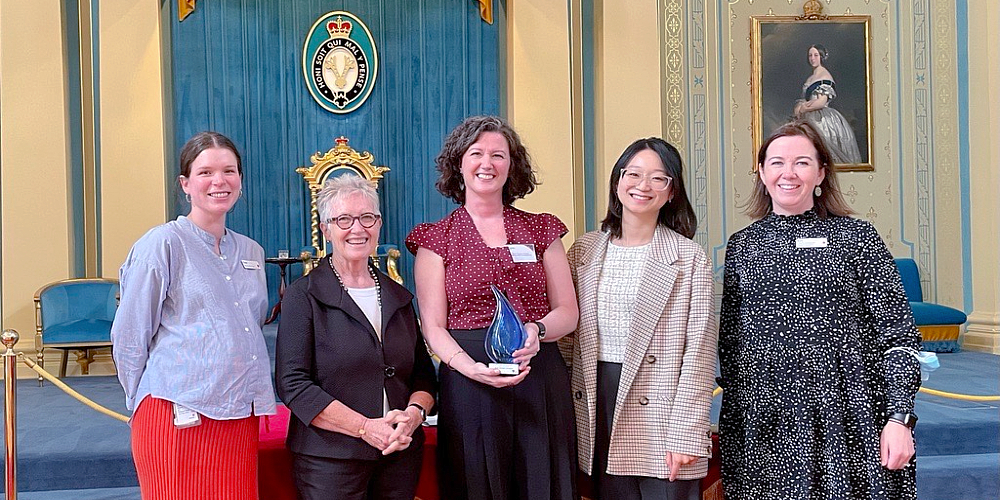 25 March 2022 | Volunteers
The Royal Women's Hospital's unique and dedicated support of patients and their families during the COVID-19 pandemic has been recognised at the 2021 Volunteering Awards at Government House.
It has been an exciting day for the Women's, with the Guide and Waitroom Support Volunteer Program taking home the COVID Innovation Award at the 2021 Volunteering Awards on Friday.
In January 2021, the Women's launched the program as part of its whole-of-hospital response to COVID-19. The Guide and Waitroom Support Program was designed to alleviate COVID-19-related pressures experienced by staff, patients, and loved ones.
"While the pandemic has been very challenging, it has also been a period of incredible resilience at the Women's – and an opportunity to continue providing positive healthcare experiences to patients," said Volunteer Program Lead Niamh Condren, who accepted the award from the Governor of Victoria – the Honourable Linda Dessau.
"Our volunteers have helped patients feel comfortable during some of their most vulnerable moments, where they couldn't have loved ones beside them – it's something you can't really quantify."
Women's CEO Sue Matthews says the win has been incredibly heartening and a credit to the amazing people who have volunteered their time for others.
"This is a proud moment for the Women's – and an opportunity to thank our team of volunteers who have provided valuable and compassionate support during the COVID-19 pandemic," she said.
The Volunteering Awards recognise the hard work of Victorians who give their time to the community. The Women's was nominated for the COVID Innovation Award alongside Brotherhood of St. Laurence, Court Network, Diabetes Victoria, genU, Little Dreamers Australia and Mount Burnett Observatory.
To read more about volunteering at the Women's, follow this link.