Working towards better diagnosis and management of endometriosis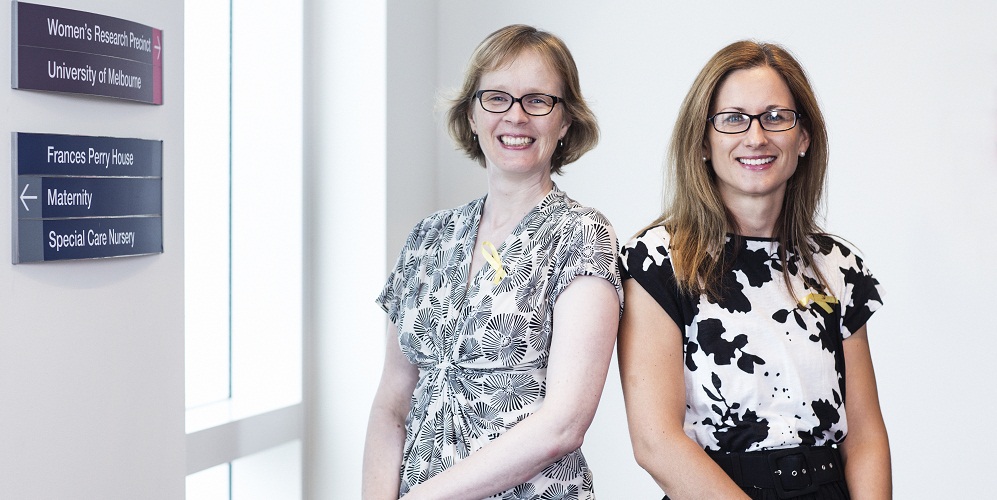 15 March 2016 | Gynaecology | Pregnancy | Research and clinical trials
Researchers Jane Girling and Sarah Holdsworth-Carson share a goal of finding better ways to diagnosis and treat endometriosis.
Endometriosis is a complex and frustrating disease that affects around 10 percent of women worldwide.
Jane, a Senior Research Fellow and Sarah, a JN Peters Bequest Research Fellow at the University of Melbourne's Department of Obstetrics and Gynaecology, based at the Women's, say endometriosis is influenced by multiple genetic and environmental factors. They hope to identify the biological processes responsible for endometriosis, which may help with the development of novel therapies and better diagnosis for early detection.
"Extensive genetic studies from collaborators at the Queensland Institute of Medical Research (QIMR) have identified several genetic variations that contribute to increased risk of endometriosis," Jane said.
She said that by examining one of the world's largest genetic databases with matched clinical, genetic and molecular information for more than 500 women from the Women's, the team may be able to identify common pathways affected by the different genetic risk variations. "Thereby providing the basis for future mechanistic studies investigating pathways modified in the development of endometriosis."
This project would not be possible without the staff and patients of the Women's.
Sarah said if successful, these studies will ultimately benefit the large number of women coping with endometriosis in our community, including young women.
"We are also very keen to identify young women at risk," Jane said. "And ultimately to develop early diagnosis for young women."
This Saturday the Worldwide Endometriosis March or EndoMarch will be held to raise awareness of endometriosis.
The University of Melbourne received a $1,180,912 NHMRC project grant to investigate the genes that increase risk for endometriosis. The four-year grant from 2016-2019, which will be based at the Women's, was for Professor Peter Rogers, Professor Grant Montgomery (QIMR) and Dr Jane Girling to continue work on the "Identification and function of genes that increase the risk for endometriosis".
Prof Rogers is research director at the Women's and Professor of Women's Health Research at the University of Melbourne.