How to care for your baby during phototherapy
Phototherapy is very safe and reasonably comfortable. It will not harm your baby and is painless.
Most babies settle quickly after having the blanket fitted. The length of time your baby will require treatment varies from baby to baby. A baby will usually need therapy for two to three days, but sometimes they need longer.
During this time, your baby will need a blood test every day to accurately measure their bilirubin levels. A nurse will visit you at home every day of the phototherapy treatment to do this test and check on your baby. She'll also check and help with your baby's feeding plan, and check your baby's weight.
As the blue light does its job, your baby's bilirubin levels will drop to a safe level. Your nurse will let you know when it's time to stop the treatment.
The use of the phototherapy blanket during treatment needs to be continuous. There are only three times when you can interrupt it:
Your drive home from hospital
Baby's bath, which can be up to 30 minutes, and
During nappy changes
For the rest of the time, you can care for your baby at home as normal. You can hold, feed and settle your baby – all, while they wear the phototherapy blanket.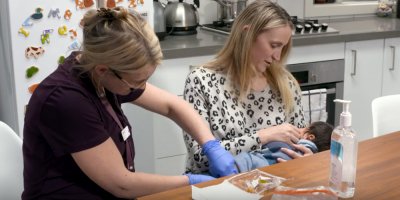 Signs to look out for
Changes in your baby's temperature can be one of the side effects of phototherapy. You should monitor your baby's temperature by using a thermometer and taking the temperature before every feed. A normal temperature is between 36.5 and 37.2 degrees Celsius.
If your baby's temperature is too low or too high, you can add or take off layers of the blanket to help regulate Baby's temperature. Other common side effects include:
Slow feeding
Loose bowel movements
Mild skin rash
Your baby may need to be re-admitted to hospital if we notice these signs:
If the bilirubin levels are increasing
If your baby is too sleepy to feed
If your baby's feeding is poor, or if they're losing weight
If there are not enough wet or dirty nappies
If there is a combination of all these signs
Or if your baby seems unwell
Even though dealing with jaundice can be stressful, it's important to know that this method is safe, and proven. If all goes to plan, your baby's bilirubin levels will be dropping. If you have any questions or concerns you can ask speak to your nurse during a home visit, or contact your local treating hospital. You'll be given their direct phone numbers during your first assessment.
Important contacts
If you cannot get in contact with your visiting nurse or midwife, you can get advice from:
The Maternal and Child Health Line on 132 229 available 24 hours a day throughout Victoria
Nurse on Call on 1300 60 60 24 for advice
If there is an Emergency, please call 000
---
Disclaimer
The Women's does not accept any liability to any person for the information or advice (or use of such information or advice) which is provided on the Website or incorporated into it by reference. The Women's provide this information on the understanding that all persons accessing it take responsibility for assessing its relevance and accuracy. Women are encouraged to discuss their health needs with a health practitioner. If you have concerns about your health, you should seek advice from your health care provider or if you require urgent care you should go to the nearest Emergency Dept.