There are two main types of oral contraceptive pills that are collectively known as 'the Pill'.
The combined pill contains two hormones and stops the ovaries releasing an egg each month. The progestogen-only pill (mini pill) has only one hormone and works by changing the mucus at the entrance to the womb (uterus) so that sperm cannot pass through to fertilise the egg.
The combined pill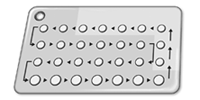 How well does it work?
The combined pill is 99.7 per cent effective, if taken correctly. Nearly one in ten women (9 per cent) taking the Pill may still get pregnant. The effectiveness is reduced because women take it irregularly, or because they have diarrhoea and vomiting, or they take medicine that can affect pill absorption. You are not protected against pregnancy until you have taken hormonal pills for seven days. It is important to not be more than 24 hours late when taking the combined pill.
Advantages
A regular bleed with reduced blood loss.
Acne often improves.
Improvement or absence of PMS (premenstrual syndrome) which can cause uncomfortable symptoms and mood changes in the days before your period starts.
Disadvantages
Tender breasts, nausea (feeling sick) and breakthrough bleeding mainly in the first few months of taking the Pill.
The Pill may cause some weight gain, mood changes or loss of libido in some women.
Rare health problems.
Health risks
Serious health problems with the Pill are rare. Smoking increases the risk of harmful effects. The Pill is not suitable for women with the following conditions:
focal migraine
history of blood clotting
liver problems
unusual vaginal bleeding.
Taking the combined pill
Remember:
Take one pill every day.
Take each pill at the same time every day, or as close to it as possible.
If you forget to take a pill, take it as soon as you remember and take the next pill at the usual time the next day.
You risk getting pregnant if you:
are more than 24 hours late taking the Pill
you stop the Pill without using another form of contraception.
You may not be protected from pregnancy if you:
are taking the Pill for the first time and you haven't yet taken seven hormone pills in a row
vomit or have diarrhoea
are taking another medicine that may affect the pill absorption, e.g. some anti-epilepsy medications
have missed taking a pill or are more than 24 hours late taking a pill.
In any of these scenarios, keep taking the Pill but use some other form of contraception (e.g. condoms) for seven consecutive hormone pills.
BUT if these seven days run into the end of your packet then miss the seven inactive pills and start taking the hormone pills in the next packet. If you are not sure which pills are inactive, ask your doctor or local pharmacist.
Some newer versions of the Pill are effective from the first day they are taken. Ask your health practitioner or local pharmacists which type you are using
The progestogen-only or mini pill
The progestogen-only pill (POP) or the mini pill contains one female hormone only.
The progestogen makes the cervical mucus thicken. This mucus then acts as a plug and prevents sperm from entering the uterus and traveling to the tube to fertilise the egg. It is 99.7 per cent effective with perfect use but if mistakes happen, such as missed pills, one in ten women (9 per cent) taking the mini pill may get pregnant.
In most women the mini pill will not prevent a normal menstrual cycle.
The mini pill is taken daily without a break. It is important not to be more than three hours late when taking the mini pill. Back-up contraception (e.g. condoms) should be used for 48 hours when first starting the mini pill.
It is suitable for women who are breastfeeding and can be continued when the baby is weaned.
Where to get more information
Your local doctor (GP)
Women's Welcome Centre (Victoria only)
Tel: (03) 8345 3037 or 1800 442 007 (rural callers)
Information about the contraceptive pill, and other types of contraception is also available in Arabic, Chinese, Hindi, Spanish, Urdu and Vietnamese – see Related Health Topics below
---
---
Disclaimer
The Women's does not accept any liability to any person for the information or advice (or use of such information or advice) which is provided on the Website or incorporated into it by reference. The Women's provide this information on the understanding that all persons accessing it take responsibility for assessing its relevance and accuracy. Women are encouraged to discuss their health needs with a health practitioner. If you have concerns about your health, you should seek advice from your health care provider or if you require urgent care you should go to the nearest Emergency Dept.